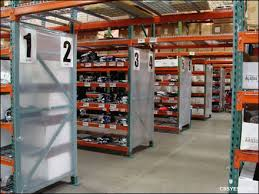 WMS software options
So you know that a WMS will help you manage your warehouse operations and inventory. But how do you know what kind of software you need? The first step in selecting your software is to build a specification list.
Start by sitting down with key warehouse staff and document how you do things today. During the discovery process build a list of all your procedures. The common procedures are receiving, inventory movement, shipping, cycle counting, and physical inventory. It is sometimes easiest to get a Post-it Easel pad and put all of these lists on the wall. You can also consider creating process flow charts to make sure you fully understand how the current system works. This is an opportunity for you to determine if steps are being done for valid business reasons or because "that's the way we have always done it".
With the common procedures documented you should now consider less common requirements. Do you need Lot number or Serial number tracking? Do you want to have the system direct the pickers as to the order in which items are picked or have the pickers self-direct? Do you need to be able to create subsets of the warehouse which provide greater and greater levels of detail (Warehouse, Zones, Racks, Bins, and Locations)? What type of label printing will you need (i.e. skid labels, shipping labels, skid inventory labels)? What is the prime factor in assigning inventory to be picked: inventory age, skid quantity or other factors? Will you allow your pickers to over-ride system picking instructions? Does the system need to be able to communicate with shipping companies such as UPS, FedEx, USPS, or other common carriers?
Finally, consider what type of reporting you will want from the WMS. Are picking statistics important? What type of audit trail is required for all inventory touches? What type of inventory on hand reports do you need? Do you need paper picking documents or can everything be done from a handheld or forklift mounted computers?
Once you have complied the comprehensive list of specifications you can begin to meet with various software vendors and have them show how they can fulfill your requirements. Make sure they show you examples of completing each requirement. If they can't fill a requirement with the "out of the box" system, discuss at length a modification or add-on. Make sure you can see examples of where they have done the modification for other clients and where the add-on package is successfully running at another client site.
Labeling the warehouse
There are as many ways to layout and label a warehouse as there are warehouses. But there are some things which you can look at early on to help prevent basic mistakes. Remember that detail is a two edge sword. It is great to be able to track everything down to the tightest location but doing so will create a lot more scanning or data entry requirements. The reverse is also true. Make the inventory areas too big and you spend too much time looking for inventory within an area. The goal is to find that fine line between efficient access to inventory and the level of inventory transactions.
First some definitions:
Warehouse: A building or area within a building that is devoted to the storage of inventory. Usually there is storage equipment (racks, drawers, bins) within a warehouse.
Zones: Areas within a warehouse. Zones can be used to denote areas which are divided by physical characteristics such as temperature or protection from the elements. They can also be used to denote areas which are divided by inventory characteristics (high value, bulk storages, floor space, etc.).
Racks/Bins: Physical racks within a warehouse which can store skids of products, bins on rack shelves, or racks of drawer type bins.
These are the most common definitions. There are many others and how you divide your warehouse will depend of the inventory storage equipment that is used in your warehouse. It is very common for warehouses to have floor storage, racking, and shelves within the racking. A rack shelf will normally store 3 standard pallets sitting next to each other. In this case, many companies will want to be able to direct the picker to a given shelf within a rack.
When you decide to label your warehouse, start by drawing a map of the warehouse. Be careful to include all storage equipment and any floor spaces. Once you have the map drawn, then you can decide on the naming scheme. For our example let's follow the common warehouse described in the previous paragraph. So we will have a warehouse, some floor spaces and pallet racking, and shelves within each racking. We also want to be able to send a picker to the correct shelf within a given set of racks. With this in mind we create the following naming scheme:
1st character will be the warehouse designation. 2nd and 3rd characters will be the rack aisle number. 4th, 5th and 6th characters will denote the shelf level within the rack system.
Using this very simple scheme we could create the following labels:
A10AA1: Warehouse A, Rack Aisle 10, Shelf AA1.
A02BA3: Warehouse A, Rack Aisle 2, Shelf BA3
A15ZB2: Warehouse A, Rack Aisle 15, Shelf ZB2
AFS1: Warehouse A, Floor Space 1
Remember to leave yourself enough characters to have at least 2 numbers or letter positions for the detail.
Once you have your naming scheme created, put it on the drawing and look for duplications, inconsistencies, and areas where you will run out of options. Remember to make it easy for anyone who didn't design the warehouse layout and naming scheme to understand it. When you are sure you have the labeling as you want it, you will then need to determine how you want to put the actual labels in the warehouse.
If you are going to use scanning then you must have both a human readable label and a barcode which can be scanned by the computer equipment. Your software vendor can tell you exactly how the barcodes must be written and if anything other than the location name is required. There are many companies that can create barcode labels that are durable and easily applied to racking or hung from ceilings. Always have the vendor send you a sample label that you can test scan with your software to make sure it works as expected. Don't be that person that gets all the warehouse labels up only to find they are wrong and won't work with the software. (Believe me….it happens a lot).
When you are ready to apply the labels try to follow some simple steps. Put them where they won't be easily torn off. Don't put labels on the floor - no amount of sealant and protection will keep them in good shape. Don't hang or place labels higher than 15 feet. Modern day scanners are good but much past 15 feet and it can become difficult to get a good scan. Make the font for the human readable portion of the label large enough and clean enough to be seen in less than ideal conditions. Remember that warehouses are frequently not as well lit as other parts of the operation.
In the 3rd part of this series we will talk about the issues of implementing a WMS.