With NAV 2013 it can be frustrating when you have to click on a different tab on the Ribbon for a process that you use a lot. With that said if it is somewhere on the Ribbon it is very easy to move those things that you use a lot to the Home tab and eliminate the clutter that you don't. Just take the following steps.
1. On the selected page go to the Blue tab in the upper left corner, Customize => Customize Ribbon.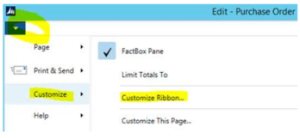 2. You will notice that the major headings on the Right match the tabs in the Ribbon of the page you are on. The subtopics match the topics that show up when you open a particular tab.
3. Let's say you want to move the Release and Reopen button from the Actions tab to the Home tab. Just click on the "+" on the "Release" subtopic to expose the applicable choice in that topic. In this case you will see "Release" and "Reopen". Now just highlight one of the choices and then you will see the "Move Up" button become active on the Right side. Now just move your choice to where you want it to appear. You can play with this and if you get confused or it doesn't appear where you want it just "start over" by clicking the button "Restore Defaults". You will then be back at ground zero and you can try again until you get it the way you like. This whole process shouldn't take more than a few minutes per Page you would like to modify.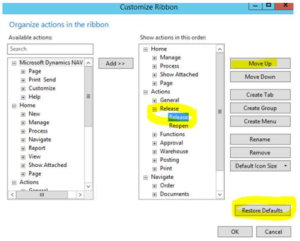 4. Final view of moved selected processes. These changes are stored in the system for your login only.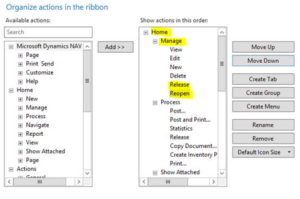 5. And the final result, magic! The most used menu choices are now only a fingertip away on the Home tab. And remember you can always "Restore Defaults" if you don't like the results or something goes amiss.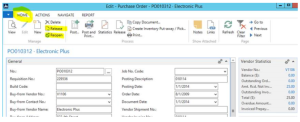 And don't forget you can Customize your list view to look just as you would like by Right Clicking on the description headers and "Choose Columns" to change what shows and where.