OneNote has introduced an app that could replace the scanner in offices around the globe. I admit that that was a slight exaggeration, but this new application will definitely prove to be a great alternative when a scanner is not readily available. Office Lens, which acts as a small scanner using nothing but the camera on your phone, is now available in the Windows Phone Store (the same functions are on the OneNote app for Windows 8 and iOS7).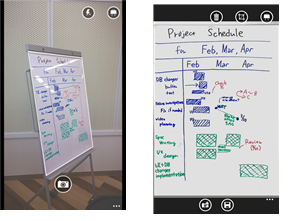 Use Office Lens to take pictures of anything from receipts to whiteboards and then let the app do its magic. Office Lens will trim and enhance pictures, making awkward angels or light glare a nonissue when it comes to readability. Another great feature of this application is the built-in optical character recognition software that can be used on a PC or an iPad for printed text. The OCR feature allows you to search for specific text within an image. Not only can you easily find desired words or phrases but the app also allows you to copy the text and paste it into another application on your phone such as email or web browsing.
Office Lens not only edits and enhances images but, in many instances, salvages them. With three modes (Whiteboard, Document, and Photo), the ability to edit and copy and paste text, and the functionality to edit pictures already saved on your phone, Office Lens is an image saving application that can be used to satisfy both personal and professional needs. Try it out today!