I had the opportunity to be a technical reviewer for a new Dynamics NAV 2013 book, "Getting Started with Dynamics NAV 2013 Application Development" by Alex Chow.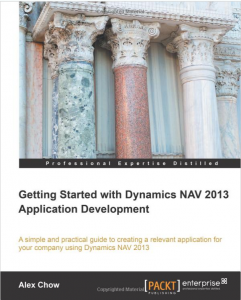 Geared towards a developer just getting started with NAV development or a company starting a Dynamics NAV implementation that wants to know more about the development process, this is a good first book to get your feet wet. The book will step you all the way through getting and installing NAV to creating and designing an application. A novice will walk away with a foundation to start building on.
As far as my role, the process was pretty straight forward. About once every 4-5 days I'd get a new chapter to review. I'd markup what I thought needed attention and make suggestions on content and fill out a questionnaire. Very glad to have been given the opportunity take part and very neat to see some of my suggestions make the final edit.
You can find the book at the Packt Pub website:
http://www.packtpub.com/getting-started-with-dynamics-nav-2013-application-development/book