The weekly 3:45PM meeting was about to start. At 3:44PM only two employees had joined the online meeting early; however, in the next 60 seconds, the remaining 33 attendees along with the meeting leader promptly connected and the meeting started on time with not a second to spare. The silence was broken by excited staff members sharing their weekly results, beating the forecasted expectations. Promptly at 3:59PM, the meeting was drawing to a close with the leader asking, "Does anyone have anything else to share? "Waiting the historic seven seconds for a response, the leader declared, "If there's nothing else, then let's get back to our business!" The meeting ended. You might be asking yourself, what's so special about this meeting?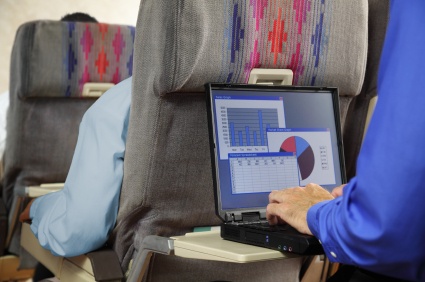 The plane was crowded. It was a full flight as anxious passengers found their seats. The founder of Innovia, Donavan Lane, noticed the placard on the blue leather headrest in front of him. It said, "Wi-Fi Available." Within minutes after takeoff, he heard the familiar "ding" and noticed the overhead light signifying was ok to use electronics and decided to connect to the Wi-Fi to work on a few tasks. An incoming instant message from a network engineer read, "Hey Donavan, can you help me a minute?" The response was immediate: "Sure, give me a call." The call came in through his PC on Microsoft Lync®, and the conversation provided the network engineer with the much needed assistance.
What's the price of admission to the "High Efficiency" club? How much money did it cost, but more importantly, how did these two frequent scenarios improve the profitability of the company? Let's analyze that.
In the professional services industry, just as the "Croce, cliché" resonates, time can't be bottled. At the days end, you get nothing back. If the time hasn't been utilized, it's lost…gone forever. You never get it back. Compare the first scenario where everyone arrives at a meeting on time because it's effortless to attend. Imagine being productive and able to account for time right up to the minute before a meeting and having the same quality of presence with video as if you were physically there. How long does it take 35 individuals to file into a room, exchange pleasantries, find a chair and more importantly, what did it cost you for the overhead expense of having a room to house 35 employees? What happens after the meeting is over? How long does it take to get back to being productive again?
In 2005, a 15,000 square foot office building was purchased with a yearly expense of $240,000. What if you only needed 3,000 square feet, and you used a local banquet hall to get together a few times a year to socialize? What if the value of physical social activity was outweighed by higher efficiency and a better work/life balance for your employees? What if you retained your employees because they could work when they needed to work and play when they wanted to play?
Best in class companies are capable of increasing profit margins by focusing on productivity results. Productivity results have no borders and no walls, and an office at 35,000 feet is just as accessible as finding a seat in the conference room.
Today's professional employees have to be generally accessible during business hours and be trustworthy. Other than that, they are responsible for managing their own productivity and time. Company leaders need to trust that employees better able to manage that time than those in responsible positions are for enforcing time.
In the December 2012 issue of Forbes Magazine, Kevin Kruse, contributing writer wrote, "You can do your job wherever and whenever you want…you can even sit in a beach chair with a cocktail in hand for all I care…as long as you get our desired results."
Kruse goes on to say, "The perceived benefits of working from home have enabled me to hire top talent with no local geographic limits. They've enabled me to steal away top talent from competitors, without having to increase their pay. They've contributed to a highly engaged workforce with a company culture that won Best Place to Work awards. The benefits to me have far outweighed the hassles."
Microsoft's study of the top 10 priorities for the new era of professional worker is stunning. The survey summarized in the Microsoft whitepaper, Work without Walls, indicates the top 10 benefits of working from home from the employee viewpoint. In reverse order:
10) Environmentally friendly (23%)
9) More time with family (29%)
8) Less stressful environment (38%)
7) Quieter atmosphere (43%)
6) Eliminate long commute (44%)
5) Less distractions (44%)
4) More productive (45%)
3) Avoid traffic (47%)
2) Save gas (55%)
1) Work/home balance (60%)
Sixty percent of the surveyed workforce had a number one priority of a work/home balance. If modern day employers do not understand the basic needs of today's workforce, then their competitors will better understand those employees for them.
So, as leaders you say, "But our staff has better interaction if we have a communal open work area environment." The data suggest you might be wrong. According to Microsoft's study, the seventh most important priority is a quieter atmosphere. Open concept offices might be great for a social gathering, but according to the statistics, today's worker wants less distractions, a quiet environment and the ability to choose where they wish to work.
The employees' ability to choose. The employer's ability to achieve high profits. Everyone wins.
Donavan D. Lane
Founder, ABC Computers, Inc.
Innovia is a best in class professional services firm.