ABC Computers (now Innovia)Recognized with Customer, Batteries Plus, LLC for 2010 Outstanding Business Achievements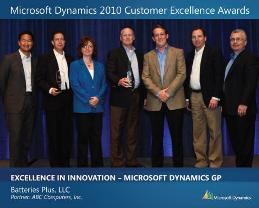 Earns Microsoft Dynamics® Award Excellence in Innovation for Microsoft Dynamics GP
ABC Computers (now Innovia) is pleased to announce their customer, Batteries Plus, LLC, was recognized by Microsoft® with a 2010 Microsoft Dynamics Customer Excellence Award for Excellence in Innovation for Microsoft Dynamics GP and was honored by Microsoft executives at an awards luncheon on Sunday, April 25, at Convergence 2010 Atlanta, the premier International Microsoft Dynamics user conference.
The 2010 Customer Excellence Awards, which are presented in 17 categories, recognize and celebrate Microsoft Dynamics customers that have achieved notable accomplishments using ABC Computers' Microsoft Dynamics solutions.
Batteries Plus was recognized for its strong commitment to Excellence in Innovation. Working with Microsoft Dynamics gold certified partner ABC Computers of Waupaca, WI, Batteries Plus can quickly bring new lines of business to market and continue to sustain growth in store openings and same store retail sales. Because of adapting advanced technologies, their IT department can react quickly and adjust to the needs of their growing organization. Microsoft Dynamics GP and the entire Microsoft product line have provided the ability to lay the tracks to make delivery methods easier for new products and new stores.
Established in 1997, the Customer Excellence Awards are awarded each year at the Convergence user conference in the United States. Microsoft Dynamics customers, partners and team members submit nominations. Judging teams for each of the 17 categories rated nominations on category specific criteria. Proposed winners for each category were then presented and reviewed by a panel of Microsoft executive judges for final approval. As part of that final review winning customers were chosen, including the Overall Excellence Award winning customer.
Microsoft Dynamics is a line of financial, customer relationship and supply chain management solutions that help businesses work more effectively.
About Batteries Plus
Batteries Plus is the nation's largest and fastest growing battery retailer, selling more than 50 million batteries per year. Batteries Plus, designated by Inc. Magazine as the nation's fastest growing specialty retailer and ranked as the #1 Battery Franchise by both Entrepreneur Magazine and D&B AllBusiness.com, has 400 locations in 43 states and Puerto Rico.
About ABC Computers
ABC Computers is a leading midmarket systems integrator specializing in the deployment of Microsoft Dynamics NAV, Microsoft Dynamics GP, network engineering, hardware and business consulting services.
Founded in 1984, the company has built its reputation on managing customer expectations and became an industry-recognized provider of information technology systems. With offices throughout the upper mid-west, the company has grown to manage clients both national and international, leveraging state-of-the-art technologies such as RFID, global connectivity and advanced applications in manufacturing and distribution that improve business efficiencies.
The company attained Microsoft Certified Gold Partner status and has earned the high-level satisfaction rating, Microsoft's Pinnacle Award for Excellence in Customer Service, Accounting Technology's VAR 100 Award and global recognition for long-term relationships with clients.
ABC Computers is a privately held company. For more information, please contact info@abc-computers.com or visit http://www.abc-computers.com
# # #
Products mentioned in this release are registered trademarks or trademarks of their respective holders.