Automatically create e-mails with PDF attachments or send documents via fax.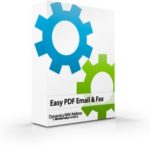 Save money and paper by sending documents electronically.
Send professional looking documents using the PDF file format.
Cater to your customers by delivering documents by their preferred method – Email, Fax, or Printed.
Improve your efficiency by creating, attaching and sending with just one click.
Send Documents Quickly and Easily
This addon allows NAV users to email, fax or print any document from within
Microsoft Dynamics NAV. Create e-mails with
PDF attachments that look exactly like the printed report, or automatically send a fax to the customer's fax number.
E-mails are created from templates which can include Dynamics NAV info such as the document numbers, order totals, customer information, or anything else. They may be created in any language, which will be linked to the Language Code on the Foreign Trade FastTab of the Customer Card.
Preview emails before sending for editing purposes or send automatically.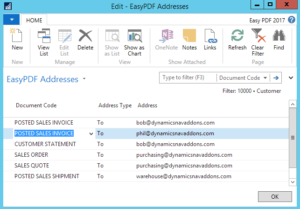 Create a Document Distribution List by Customer, by Document.
Specify the email address or fax number to which each document should be sent. Send documents to multiple email addresses or CC (BCC) other email addresses.

Custom email/fax messages by user, by document.
Users may create email body messages that are specific to a NAV user ID, by document. The email body text created by a person in sales sending a Posted Sales Invoice can be different from the email body text sent from a different person in accounting sending the same invoice. The message associated with sending a Customer Statement would be different still.
Batch or Auto Send Your Documents.
Send documents instantly and automatically when posted or create a batch of documents for later review and sending. Filter the batch and partially send it. If multiple documents are being sent to the same email address, they may be "consolidated"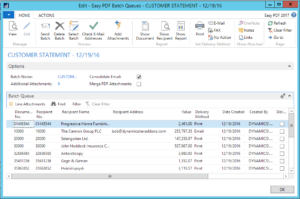 and attached to a single email. Attach additional documents, such as promotional flyers, to all documents in a batch.
Customer Statements
Reminders
Finance Charge Memos
Posted Sales Credit Memos
Posted Service Invoices
Posted Service Shipments
Posted Sales Invoices
Posted Sales Shipments
Store an audit trail
Store a history of all documents that have been emailed, faxed, or printed through Easy PDF. Store information about who sent the documents, to whom, when, what the subject of the email was, and what documents were attached. Even store a copy of the sent document, if desired, which can be restored and printed.