We're excited to hear the news that Microsoft and IBM have forged an alliance to make it easier for users to get the functionality they need in the cloud. At Innovia, as Microsoft partners, we're all about making things easier for our customers. With this new alliance we'll be able to deliver even more functionality to make that goal a reality.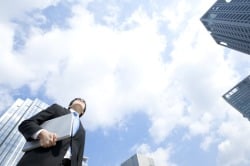 The partnership, announced on October 22, will enable IBM's middleware software -- including WebSphere Application Server, WebSphere MQ and DB2 database -- to run in virtual machines on Azure for development and deployment purposes.
In addition, Microsoft and IBM are working together to provide .NET runtimes and tooling in IBM's Bluemix, which is IBM's platform-as-a-service offering. The pair will start by providing a limited preview of .NET within Bluemix.
Microsoft and IBM also plan to make IBM's Pure Application Service available on both Azure and IBM's SoftLayer infrastructure-as-service cloud for automated deployment, configuration and license management in hybrid cloud environments. (
SoftLayer already supports a wide range of Microsoft software
, including Windows Server, Hyper-V, WebMatrix, Windows Firewall and SQL Server.)
When can customers expect to see these promised deliverables? A Microsoft spokesperson provided the following timetable:
"Effective immediately, IBM has updated its policies to allow customers to bring their own license to Microsoft Azure by installing supported IBM software on a virtual machine in Azure. Windows Server and SQL Server are available for use on IBM Cloud effective immediately.
"In the coming weeks, Microsoft Open Technologies, a wholly owned subsidiary of Microsoft, will publish license-included virtual machine images with key IBM software pre-installed. Customers can take advantage of these virtual machines to use the included IBM software in a 'pay-per-use' fashion.
"IBM will be offering a limited preview of .NET on IBM Cloud in the near future."
The Microsoft-IBM alliance is the latest in a string of Microsoft partnerships involving Azure and enterprise software.
Microsoft also is working with Oracle
and
SAP
to certify more of their applications and development tools on Azure.