You can create statistical accounts in the Business Central chart of accounts as a simple way to create various types of reports that include non-monetary measures. Examples could include sales/employee, cost, machine unit output, etc. Since statistical accounts are set up in the chart of accounts, they can be used in the same way as other accounts in budgets and financial reporting.
One possible advantage of keeping statistical measures within Business Central is that all the data is in one place rather than having some data stored in separate spreadsheets or databases. So, whether you are using BC account schedules, Jet Reports, or Power BI, all the data is easy to access.
Statistical Account Setup
Statistical account setup is similar to the setup of regular financial accounts. However, it is recommended to isolate statistical accounts by putting them after the rest of the chart of accounts using higher account numbers or by using an alpha prefix. Statistical accounts will need their own balancing accounts that are separated from the regular financial accounts in the same way.
Do Credits and Debits Have Your Mind Swirling? If So, Read
How To Preview G/L Account Net Change in Business Central/NAV

When setting up statistical accounts, you will need to choose whether to use the account type of Balance Sheet or Income Statement. You could use either or both depending on the type of data you are recording and how it is used. For example, if you were tracking employee headcount, you might choose to use Balance Sheet accounts because the incremental period changes are less important than the current balance. Alternatively, you might use Income Statement accounts if the headcount data were to be used for income statement metrics such as revenue/employee, but remember that the YTD totals will not be correct if the current total headcount is posted each period in an income statement account.
Below are the statistical accounts set up for a printing company that would like to report employee headcount, impressions per hour, and cost per 1,000 impressions.

Dimensions can be assigned with statistical accounts in the same way as with any other G/L account.

Entering Values for Statistical Accounts
The general journal below includes several months of entries for employee headcount. This is an example of entries to balance sheet statistical accounts.

The general journal below includes several months of entries for machine statistics. This is an example of entries to income statement statistical accounts.

Use Statistical Accounts in Reports
After posting the journal entries, you can run an employee headcount report using the General Ledger Balance by Dimension action from the Chart of Accounts.

Statistical accounts and formulas using the reports can be integrated into account schedules to display performance statistics as shown in the example below.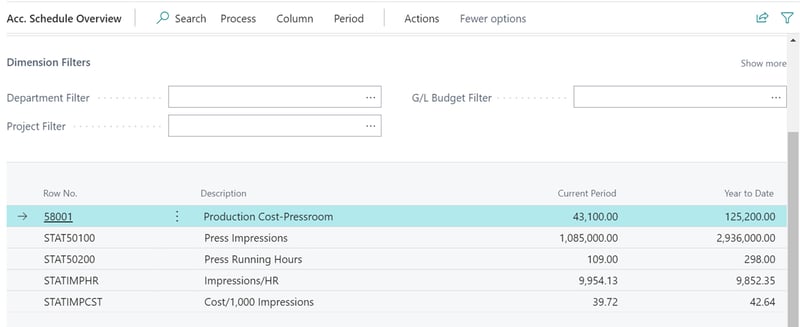 While there are other ways to develop reports that incorporate statistics, standard Business Central supports simple enhancement of reports with statistics without additional apps.