The Zetadocs collections management solution for Dynamics 365 Business Central allows users to email batches of statements and reminders, ensuring the right people have the right documents at the right time. Guaranteeing people have immediate access to documents encourages earlier dialogue which allows for faster dispute resolution and payment, reducing debtor days.
Benefits of Zetadocs Collections Management Solution
There are multiple direct benefits of implementing the Zetadocs collections management solution, with the three main advantages listed below:
Fast Dispute Resolution
Ensuring that the correct people have access to the right documents at the right time is essential to resolving any disputes in a timely manner. On-screen access enables staff to immediately fix any issues that may arise, for example disruptions in supply chains.
If a business process doesn't go as planned, implementing a solution like Zetadocs can mitigate any frustrations before they negatively impact a relationship with important stakeholders. Automating these processes allows quick access and thus faster dispute handling and resolution.
Information Instantly Available
Implementing a solution like Zetadocs collections management also enables organizations to have access to important information immediately. Authorized personnel across departments can all easily access invoice information, reducing the likelihood of information barriers impacting productivity.
This is a huge benefit now that more people are working from home than ever before. Individuals or departments may have different working patterns that could impact their ability to drop off invoices or speak to their colleagues at their desk. Digitizing this process removes this issue as location is not a factor in retrieving or looking up information from invoices.
Zetadocs automatically archives documents sent from Business Central or NAV, while capturing inbound documents, faxes and emails, storing them centrally for instant on-screen retrieval.
Resolve Payment Issues Early
Linked to the two benefits above, our collections management solution also enables the early resolution of payment issues. Having key information available immediately and encouraging early dialogue with customers facilitates the resolution of payment issues faster and reduces debtor days.
Watch the Zetadocs Webinar
Improve Your Collections Management With Zetadocs and Business Central

Zetadocs Collections Management Solution
Features
The Zetadocs collections management solution enables users to accomplish many tasks and enhances Business Central functionality in several ways. We'll now explain how some of the main features work to achieve these benefits:
Add Attachments Automatically
Zetadocs allows customers to automatically attach documents to any communications they send out.
This GIF shows how simply Zetadocs automatically attaches relevant files based on document templates (in this example, it's promotional material, but there is a range of other files that can be attached):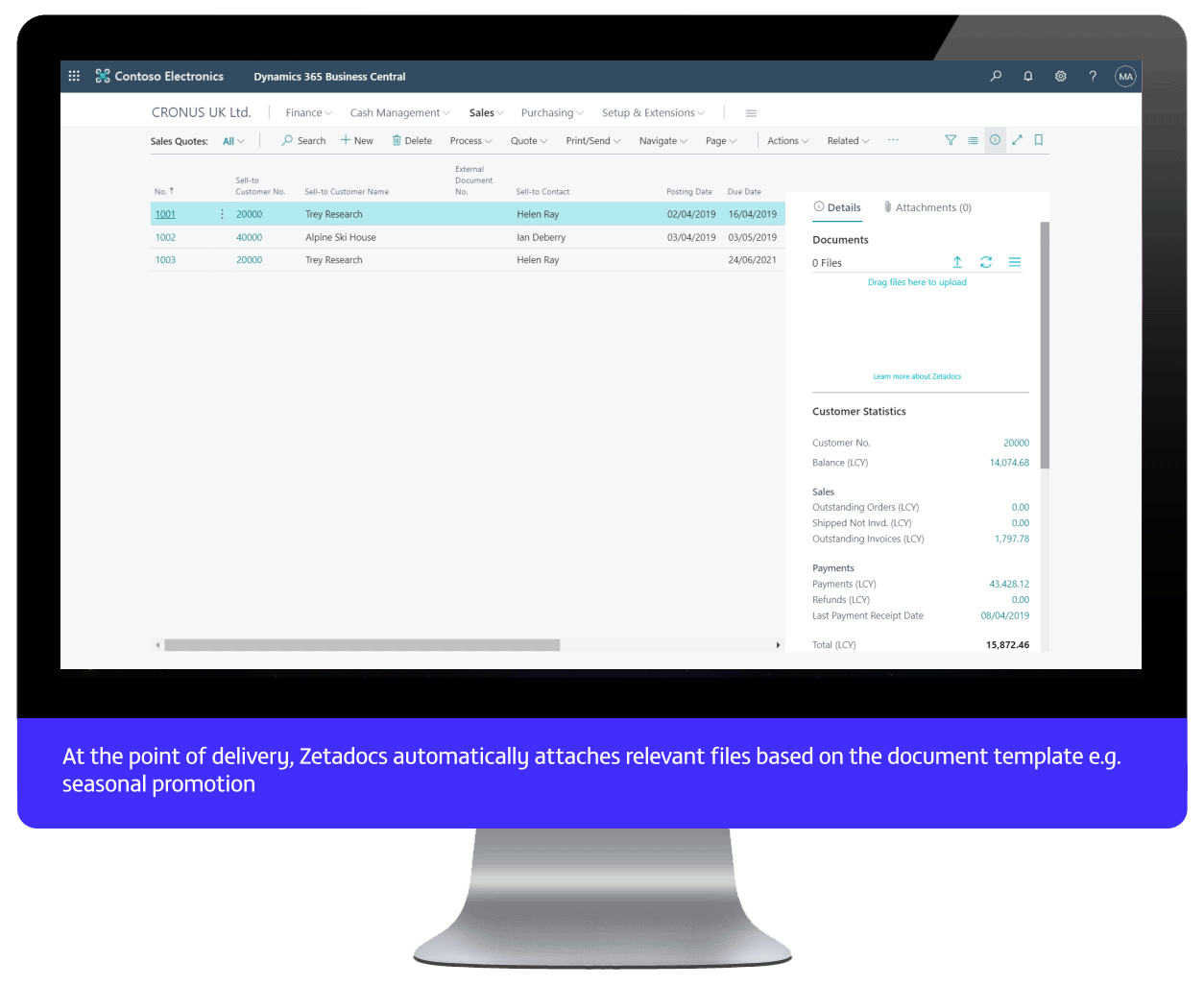 Deliver Documents in Batches
Another important aspect of this solution is how it enables users to send out a personalized batch of documents to customers. These can also be consolidated into a single email per customer.
The GIF below shows how easy it is to deliver documents in batches using Zetadocs:


File Copies Into Configurable Folders
Zetadocs enables users to file copies of their sent documents into folders that are configurable by variables including date, customers and type.

This final GIF demonstrates how Zetadocs enables customers to configure SharePoint folders by their personal needs and settings: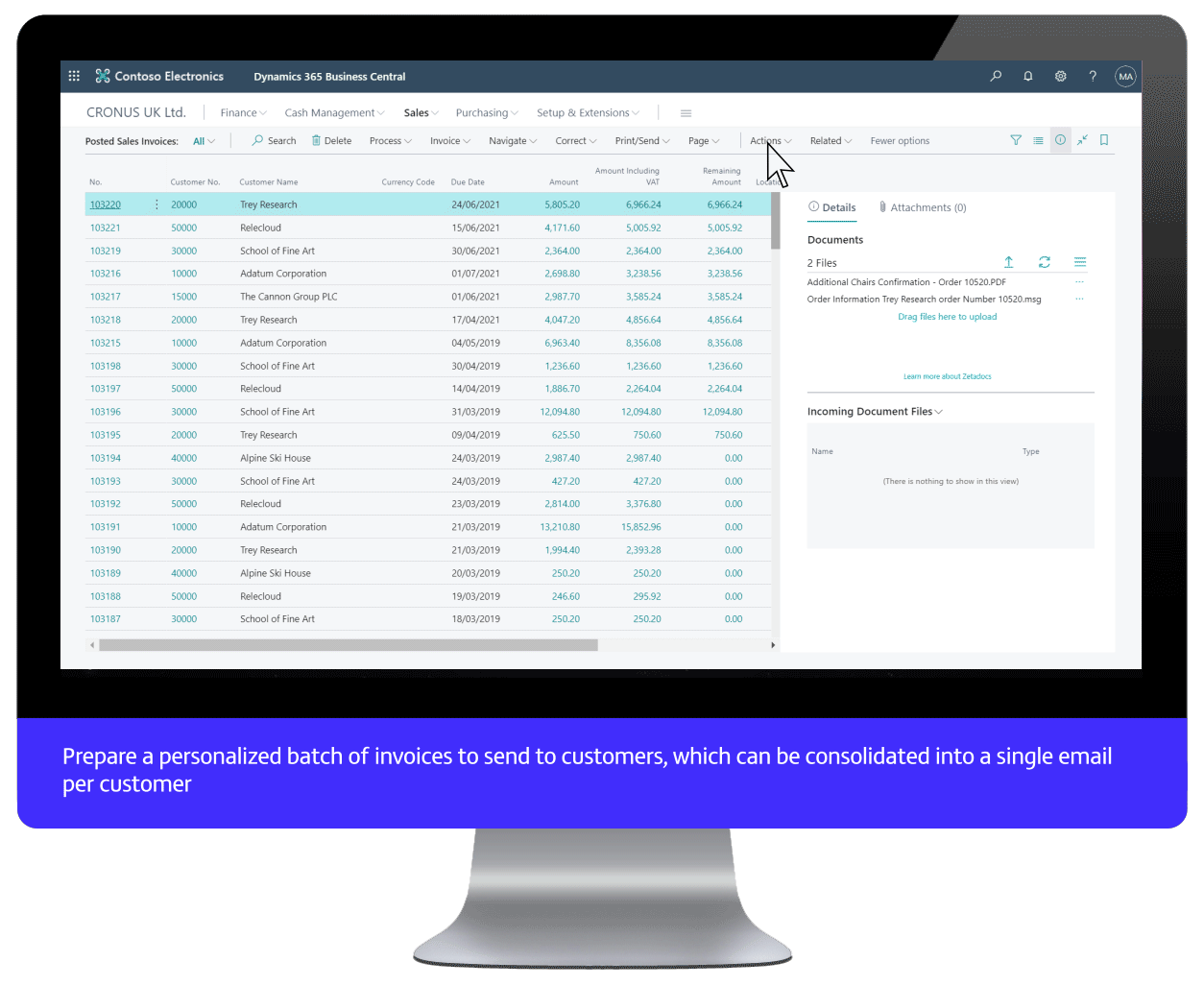 As explained throughout this post, the Zetadocs collections management solution brings about multiple benefits (such as instant access to key information and fast dispute resolution), as well as increasing business process efficiency.
Link to original blog here.