The food service business demands a great deal from your operation and personnel. Constantly changing challenges and trends make it nearly impossible to keep up with the times!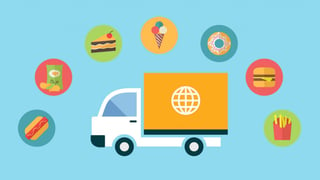 However, food industry software can help your entire operation – no matter what the size. Thanks to huge leaps forward in technology, food industry software has greatly improved and tailored to account for various industry standards. It is also equipped to streamline the entire food distribution process – from processing orders to packing shipments, tracking cases and beyond.
While food industry software isn't a magical silver bullet, there are many aspects of your business that it can control, which gives you and the rest of your staff time to take care of customers and grow your business! Here are 3 ways that food industry software can help streamline the food distribution process:
1. Workflow
The multiple details of the food service business demand attention, and the right food industry software handles every detail and provides reports, charts and graphs at the push of a button.
You'll be able to instantly view such details as delivery times, accepting and activating EDI orders, shipping schedules, brokerage fees and much more. Improved workflow means better customer service, a critical factor in an industry that's crowded with options.
2. Lot Tracing
Food industry software not only keeps you productive, it keeps you and your customers – and the end user – safe when product recalls are issued. The right food industry software tracks shipments and creates a secure lot chain so that when recalls are issued, the tagged inventory is quickly, and accurately, located and isolated.
3. Ordering Process
The ordering process is vital to the success of any business, and food industry software is created to insure that orders are processed accurately – and are easy to modify. In addition, food industry software allows you to see customers' ordering history, so you can anticipate what they need, before they need it!
Software packages for the food industry allows companies to service their customers and monitor the thousands of details that comprise this industry. Food industry software not only saves you time and money, it allows you to grow your business!