Innovia Consulting is proud to announce that we have attained the first two of Microsoft's new Solutions Partner designations. These designations prove that a Microsoft partner is qualified to assist end users with their specific business needs. Innovia has earned the following designations.
Business Applications - with a Specialist classification for Small and Midsize Business Management
Modern Work
We are excited to have these new honors from Microsoft. They are a testament to our ability to provide companies like yours with the expertise needed for Microsoft-related projects. So what do each of these designations mean?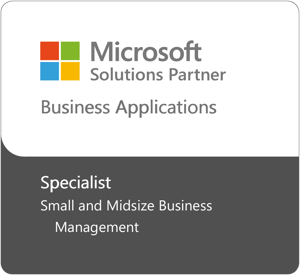 With the Business Applications designation, Innovia demonstrates a broad capability to deliver solutions with Dynamics 365 Business Central and the Power Platform. This designation also indicates competency in:
• Microsoft Low Code Application Development
• Small and Midsize Business Management
The Modern Work designation indicates a broad capability to help customers boost their productivity and make the shift to hybrid work using Microsoft 365. This competency includes:
• Adoption and Change Management
• Calling Solutions for Microsoft Teams
• Meetings and Meeting Rooms for Microsoft Teams
• Teamwork Deployment
Our CEO, Alan Wyne, had this to say regarding the exciting news.
"We are proud of our team members for continuing to step up and help us to obtain these new Microsoft Solution Designations. These demonstrate our ability to provide solutions in the areas that are important in the ever-evolving business landscape. We look forward to earning more of these designations in the near future."
These new designations replace the old "Gold" and "Silver" competency levels that Microsoft previously utilized. Microsoft switched to this new format in October 2022 and consolidated all of the old competencies into six key solution areas.
• Business Applications
• Modern Work
• Digital & App Innovation (Azure)
• Data & AI (Azure)
• Infrastructure (Azure)
• Security
Microsoft chose these designations as areas where it sees customer demand and opportunities for its partners and customers to grow. Each solution has two levels: Solutions Partner and Specialist/Expert.
Innovia Consulting is actively working on the remaining designations; we expect to earn them throughout 2023.
About Innovia Consulting
Do you need the latest ERP system backed by the power of Microsoft and its robust cloud solutions? Look no further than Microsoft Dynamics 365 Business Central and Innovia Consulting as your partner! Since 1999, we have worked closely with hundreds of clients in the US, Canada, and several other countries to build ERP systems that save them time and money. Our goal is to be "A Partner You Can Trust," which is why we strive to provide top-notch service and support in all we do. As a Microsoft Designated Solution Partner, we have the resources to ensure your business needs are met -- On Time and On Budget.
Innovia is here for you whether you are looking to implement Business Central, need help with your existing Microsoft Dynamics NAV system, or want to supplement your ERP with the Power Platform, Microsoft 365, Azure, or other 3rd party business solutions.