South Bend, IN: Home of your Microsoft Dynamics Partner ... And So Much More!
1. The University of Notre Dame's Main Building has a "Golden Dome" with 1,250 thin strips made out of 8 oz. of 23-karat gold ... TOTAL!
2. The University of Notre Dame has the oldest continuously existing college band in the nation.
When Notre Dame played football for the first time against Michigan in 1887, the Notre Dame Marching Band was already celebrating its 41st birthday.
Today, the Notre Dame Marching Band is an integral part of the traditions surrounding Fighting Irish football. The band was also instrumental in the creation of the official Notre Dame plaid design, which was painstakingly designed and verified to be a genuinely unique plaid. The band sent the design to Scotland to be examined by Tartan Advisory Committee, who found it was not used by any Scottish clan on record. That means it can fully represent the University.
More info at: http://www.ndband.com/about-the-nd-band/history.cfm
3. Bendix Woods in South Bend hosts the world's longest living outdoor sign spelling out "Studebaker" with pine trees.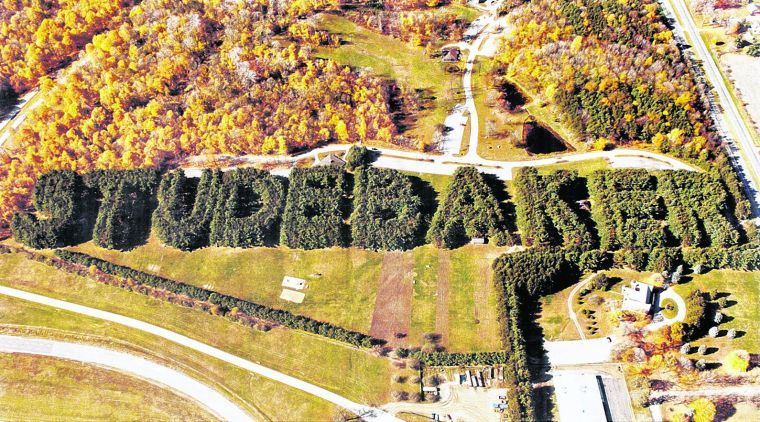 Photo Credit: South Bend Tribune.
The Studebaker Corporation was the economic powerhouse of South Bend for decades. Even though the South Bend plant closed in 1963, this living sign that was originally planted in 1938 lives on. Today, it is recognized as a landmark in and of itself, and starting with a 2011 grant, preservation efforts have been in full swing.
More information at: https://www.southbendtribune.com/news/local/keynews/community/a-piece-of-living-history/article_28fd2ca0-fc36-11e2-945c-0019bb30f31a.html
4. Copshaholm, the Oliver Mansion, was the first house in South Bend to have electricity, and leaded glass windows from Tiffany Glass Company can be found throughout.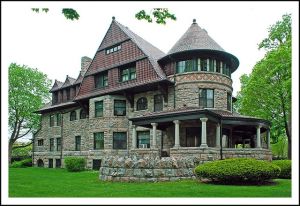 The Oliver mansion was the long-time home of the Oliver family. J.D. Oliver had this home constructed in 1895-96. He financed the mansion from his company Oliver Chilled Plow Works, which was founded by his father James. The invention of the chilled plow led James and later J.D. Oliver's business to thrive.
Today, Copshaholm is a historic landmark and well-worth the tour. More info at: https://historymuseumsb.org/see-do/historic-house-2/
5. South Bend's East Race Waterway was the first artificial whitewater course built in North America. It opened in 1984.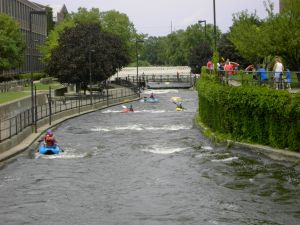 Photo Credit: Michael J. Lane / CC BY-SA (http://creativecommons.org/licenses/by-sa/3.0/)

One of the biggest advantages of this course is that the strength of the rapids can be controlled via three headgates. It can range from a gentle, casual-friendly experience up to Olympic-level difficulty. More than 5 miles of scenic walking paths surround the East Race course, which is also located in the middle of a district of the city characterized by culture, art, great food, and plenty of public spaces and parks.
6. South Bend's Potawatomi Zoo opened in 1902, making it Indiana's oldest zoo.
The zoo also plays a critical role in many species' conservation plans. Notable animals on display include Okapi, American Alligators, Otters, Tigers, Lions, and much more. Recently, major construction on its facilities completed in 2019, and the zoo welcomed a rare white rhino named Masamba.
More information is available on the zoo's official website: https://www.potawatomizoo.org/
7. A nest installed on South Bend's County-City Building has been instrumental in restoring peregrine falcons to the eastern United States.
Peregrine falcons are the fastest animal in the world; they can fly at speeds over 200 mph. The nest in South Bend has seen several peregrine falcon chicks, and you can view a live stream of the nest any time at: https://falcam.southbendin.gov/
8. The Studebaker National Museum houses the largest Presidential carriage collection, including the carriage that took President Lincoln to the Ford Theatre the night he was killed.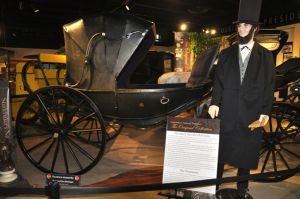 The actual sounds of this carriage were recorded and used in the Stephen Spielberg film Lincoln.
In addition to the presidential carriages, the Studebaker Museum also houses a great collection of ... you guessed it ... Studebaker vehicles. If you've never seen one in person before, this is the best way to experience these now historical vehicles.
Plan you visit at https://studebakermuseum.org/
9. St. Paul's Memorial United Methodist Church houses the largest pipe organ in the state, as well as an ancient baptismal font made from ruins found in Rome.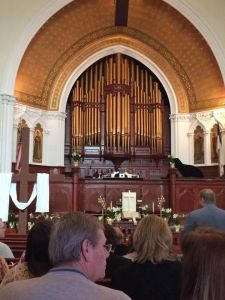 10. South Bend hosts one of the largest Dyngus Day celebrations outside of Poland.
Many a new South Bend resident has given a double-take when someone first casually mentions Dyngus Day. What is Dyngus Day? It is the Monday after Easter Sunday, which has been a traditional day of celebration in Poland since at least the 14th century. Owing to its large Polish-American population, South Bend is one of the few large communities to celebrate the holiday in the United States.
Festivities generally include plenty of traditional Polish cuisine--such as sausages, potatoes, sweet and sour cabbage, and more--as well as drinking, playing cards, and polka. Dyngus Day has also played an informal but significant role in politics as a kind of kick-off to Indiana primary season. Many significant political figures have celebrated the event in South Bend, including the late Senator Robert F. Kennedy, former Indiana /governor Joe Kernan, former President Bill Clinton, and many more, including most recently former mayor of South Bend and 2020 presidential candidate Pete Buttigieg.
South Bend's Polish tradition also comes center-stage during the Tuesday before Ash Wednesday. You may have heard this day called "Fat Tuesday" or "Mardi Gras" but in South Bend, it's "Pączki Day"! Pączkis are a kind of filled Polish donut and are the traditional food of this day of pre-lenten excess! You can find Pączkis at most any bakery in South Bend in February and/or March.