What is the Difference Between Microsoft Dynamics NAV and GP?
Two groups of people frequently ask this question: Those that are new to Microsoft Dynamics 365 and those that are current GP customers. Each group comes to the question from a different perspective, so in this article, they will be dealt with separately. However, a few points we cover first apply to both groups.
The simplest answer is that there is not a lot of difference. Both systems do a solid job with accounting and distribution functionality. While feature for feature there are subtle differences, for an unbiased business leader seeking to differentiate, the differences are largely immaterial.
So what does Microsoft say? The Microsoft roadmap for Dynamics product lines makes it clear that cloud-based solutions are where the bulk of Microsoft's attention and investment is going to be made in the future. What requires a more nuanced reading is the specific direction for the former on-premise products, particularly Dynamics GP and Dynamics NAV.
For NAV, the answer is clear. There is no more NAV (or Navision for long-time fans). It is now called Microsoft Dynamics 365 Business Central. The roadmap for Business Central is also clear; Microsoft has extensive documentation detailing its release schedules and notes.
For Dynamics GP, the nuance begins to require reading between the lines. By following the docs and links provided by Microsoft, it is virtually impossible to find any mention of the product. Even if you start on the Microsoft Dynamics Business Central page and move backward to the SMB link or the general Dynamics 365 2020 release wave 1 plan, Dynamics GP is simply not included.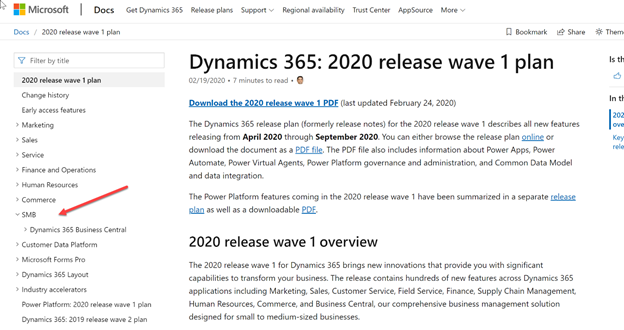 Therefore, while there is plenty of passionate discussion about the future of Dynamics GP, it seems clear from Microsoft's documentation that this product is not included in the long-term roadmap.
What does this reality mean for prospective and current Dynamics GP customers? Let's see how it affects each group specifically.
Group 1: Prospective New Microsoft Dynamics 365 Customers
If you have continued reading up to this point, then it is likely you have a strong interest in Microsoft Dynamics GP. So, the good news is you can still purchase this product. Microsoft has announced support for the product at least through the next five years. More good news: you will be joining a large number of customers in North America with a strong user community. Dynamics GP is an ideal solution for firms whose primary needs are finance or distribution capabilities. While some light manufacturing does exist with Dynamics GP, it is very light and would not be a wise choice given the superior capabilities of Business Central. Furthermore, Dynamics GP could still be a good fit if you have members of your team that have deep experience with it or have a long-standing relationship with the partner from whom you would be sourcing the Dynamics GP.
Group 2: Existing Microsoft Dynamics GP Customers
Microsoft has been very delicate in the discussion of the future of Dynamics GP, primarily out of respect and the desire not to lose such a large install base. However, if you follow the investment, or lack thereof, it is clear that Microsoft Dynamics GP is simply not a strategic part of Microsoft's vision of the future. While Finance and Operations and Business Central are sexy new names, they are wholly based upon two of the Microsoft Dynamics products, Dynamics AX (formerly Axapta) and Dynamics NAV (formerly Navision). Microsoft desperately does not want a family fight, but it is clear they have picked the winners. For mid-sized companies seeking an end-to-end ERP solution, Microsoft Dynamics 365 Business Central is the platform of the future.
For a more complete list of its capabilities, you can visit the Microsoft product website. Microsoft Dynamics 365 Business Central is far and away the fastest-growing product line (in terms of new customers) in the lineup. More customer adds leads to more product investment, which in turn leads to an even stronger product. If it were my company and money, Microsoft Dynamics 365 Business Central would be the smart investment.
If you would like to discuss the differences between these two products, you can reach out to sales@innovia.com or call us at 800-834-7700. You can also check out this free whitepaper on Business Central vs. GP for even more insights.