Everything You Need to Know about

Microsoft Dynamics NAV 2016
One of the aspects of Microsoft's model that appeals to businesses most is its long-term commitment to providing security and usability updates that keep a product going for years. You can focus on what matters most to you and be confident in your technology investment. Microsoft Dynamics NAV 2016 continues to be a solid system that can benefit virtually any business today. If you are on this system, you may have questions or concerns that are specific to this version. Innovia, like Microsoft, wants to help you make the most of this powerful system. That's why we compiled this page of useful resources for NAV 2016 users and administrators.
Feel free to scroll all the way through, or you may click the section link below that interests you to skip down to that topic.
Ready to talk to Innovia about a possible partnership to support your NAV system?
Licensing of Microsoft Dynamics NAV 2016
Microsoft Dynamics NAV 2016 is licensed with either a perpetual license or subscription model.
The perpetual license requires a one-time investment for either the Starter Pack or the Extended Pack. Then just buy User licenses for each user. The subscription has a lower upfront cost and is billed monthly based on your functional and user-level choices.
Pat Lacouture explains this process in her blogs on User Licensing and Functional Licensing as well as in her accompanying webinars.
New for NAV 2016: Workflows
One of the biggest additions to NAV in the 2016 version was Workflows. This feature allows you to implement automation to help with basic or data-heavy tasks that would be prone to error if done by a human. Things like approval limits and currency exchange rate updates can be automated to streamline your business processes.
To see this feature in action in a NAV 2016 environment, watch this video on-demand with Jeff Pergolski. He explains what Workflows are in NAV 2016 and runs through a few applications and how to set them up to get you started. Just fill out the short form below.
Sorting List Views by Multiple Columns
Another new feature in NAV 2016 is the ability to sort list views by multiple columns. While NAV 2015 and earlier versions only allowed you to sort by one column, NAV 2016 provides added flexibility so that you can use list views in more nuanced ways.
Adding your second sort column is simple. Once you are sorted by a single column, just hold Shift while left-clicking the second column.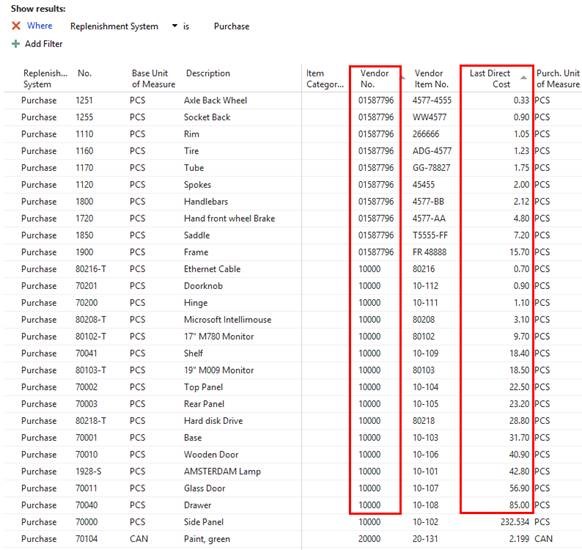 You can learn more about this feature in John Grant's blog on the subject.
Integration with Dynamics CRM
For NAV 2016 users that also use Dynamics CRM, integration is finally here! NAV 2016 introduced the ability to integrate these two powerful Microsoft tools. Allowing them to "talk" to one another and exchange critical data makes them both even more powerful.
The integration is not just plug-and-play, though, so to help you determine if integration is right for you and what you will need to do to prepare to make it happen, we invited Technical Prospects to share their experience. You will find out how they integrated NAV 2016 and CRM, as well as the pitfalls they discovered that you should be on the lookout for.
To watch the presentation on-demand, just fill out the short form below.
Cumulative Updates
Microsoft Dynamics NAV 2016 runs better when it is up-to-date. Microsoft regularly releases security and usability updates that keep your system running efficiently and--more importantly--securely.
One of the services Innovia does for the NAV user community is to regularly release blog posts which list the latest cumulative updates for each version of NAV and Business Central still supported. You can see all our posts, including the latest by clicking the button below.
As a NAV 2016 user, though, you may only need cumulative update information for the version you are using. In that case, you may want to bookmark Microsoft's NAV 2016 cumulative updates page, which updates monthly. You can even subscribe to the RSS feed so you don't miss an update.
Other Innovia Resources
To view our entire content library library, simply click your choice of either written blogs or video content below. You will be taken to pages displaying the entire content archive to help you utilize your system in the best way possible!
Microsoft Capability Guide
In addition to the resources above from Innovia Consulting, a quick and easy-to-read product capability guide from Microsoft for NAV 2016 can be found on its website. This guide details what you need to know about NAV 2016 and answers the most frequent questions users and administrators have.
Still have questions? Innovia's team of experts knows NAV 2016 inside and out. Contact us and we will get you the answer you need.
Do you Need Microsoft Dynamics NAV 2016 Support?
Innovia helps businesses like yours maintain their current NAV 2016 system with a 24/7 dedicated support team. Learn more about our support process and meet the support team by following the link below.
Need a New Microsoft Dynamics NAV 2016 Partner?
As a Microsoft Dynamics NAV 2016 business, you already have a partner, right? But are they meeting your needs?
One of the most common things we hear from businesses is that they are not ready to upgrade or re-implement but need help changing something in their existing system or addressing errors. That's where a partner with a proven success record on support comes in. Innovia is one of the few partners out there with a dedicated support team that helps customers with ongoing concerns no matter what version they are running. It's fast, too. We pride ourselves on quick response and resolution times for support tickets.
If you are having issues getting a timely response from your partner, it may be time to consider changing. You can find the other signs that it's time to look for a new partner in our free ebook 5 Signs It's Time to Find a New Microsoft Dynamics NAV Partner.