Everything You Need to Know about

Microsoft Dynamics NAV 2015
Your entire business in one system ... That's the promise of the Microsoft Dynamics family of ERP systems. And while we recommend that anyone looking to install a new one today implement Business Central, Microsoft Dynamics NAV 2015 is a robust system that receives regular updates from Microsoft. If you're running it today, you still have one of the best, most flexible ERP options out there.
To help you get the most out of your system, we put together this page with both Innovia Consulting and Microsoft resources that focus specifically on this version of NAV. You can scroll through or click any of these links below to skip ahead to the section that interests you.
OR if you are ready to talk to us about how Innovia can help you as a partner that knows your version of NAV, contact us today and we'll start a conversation.
Licensing of Microsoft Dynamics NAV 2015
Microsoft Dynamics NAV 2015 is licensed in two different ways: a perpetual license and a subscription.
For the perpetual license, you make a one-time investment for your functional license (either the Starter Pack or the Extended Pack) and each user license you need. The subscription option, on the other hand, offers you a monthly fee for each user based on your functional license choice.
Pat Lacouture explains this process in her blogs on User Licensing and Functional Licensing as well as in her accompanying webinars.
Customizing Profiles in NAV 2015
To take advantage of the power of NAV 2015, each user should take stock of what they need to know and what they don't need to know. Once they've done so, they can choose a Profile that fits them closest and then personalize it even more.
To find the profiles list go to Departments /Administration/Application Setup/Role Tailored Client/Profiles (or just type "Profiles" in the search box as a shortcut).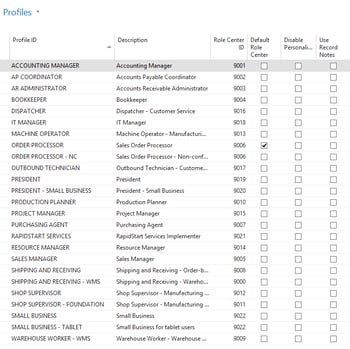 There are 25 different built-in profiles in NAV 2015, so you can select the one most closely related to your job to get started. Then if you need to customize further, you can do so! Learn how by reading Jenny Hollingsworth's blog.
Other Features to Help You Do Your Job in NAV 2015
In addition to your Profile options, there are many other enhancements to NAV 2015 from the previous version that can make your job easier. For a quick overview and to see these features in action, fill out the small form below to view "6 1/2 Quick Ways to Make Your Job Easier Using New Simplification Features in Microsoft Dynamics NAV 2015."
Cumulative Updates
To keep your Microsoft Dynamics NAV 2015 system running smoothly, you must keep it up-to-date. While NAV 2015 may no longer be receiving feature updates from Microsoft, its updates address security vulnerabilities and detected bugs/errors that you need to address to protect your data.
To keep you on track, Innovia regularly releases blog posts detailing the latest cumulative updates for all versions of NAV and Business Central, but if you only need the NAV 2015 updates, you can bookmark the "Released Cumulative Updates for Microsoft Dynamics NAV 2015" on Microsoft's site to regularly check-in on the updates for this version. You can even subscribe to the RSS feed to get notified when a new update is released.
Other Innovia Resources
We've been in business since 1984, so we have a large library of NAV 2015 content available to you to educate and inspire you to improve your system even more. If you haven't found what you were looking for on this page, feel free to browse the entire library of version-specific content, both in blog and webinar forms.
Microsoft Capability Guide
In addition to the Innovia Consulting resources above, Microsoft also published an overview product capability guide that you can access from its site. It goes into the most frequently asked questions about NAV 2015.
Anything unclear? Feel free to contact Innovia with additional questions. Our team has worked extensively with NAV 2015 since its initial release and still do today.
Do you Need Microsoft Dynamics NAV 2015 Support?
Innovia is one of only a handful of Microsoft partners that has a 24/7 dedicated support team for all versions of NAV, including the latest version of Business Central and NAV's predecessor Navision. Find out more about our Support Squad by following the link below.
Need a New Microsoft Dynamics NAV 2015 Partner?
If you have a NAV 2015 system in place, it's likely you already have a partner, but is your current partner meeting your needs?
In the never-ending pursuit of the "new," previous versions of software like NAV 2015 can be relegated to the back burner for many partners. This isn't our approach, though. Every customer is different, and there are often good reasons to maintain rather than re-implement or upgrade. You deserve the best service for whatever version of Microsoft Dynamics ERP software you are running.
Still wondering if you need a new partner? Read our free ebook to learn the five tell-tale signs that you need a new Microsoft Dynamics NAV 2015 partner.