ABC Computers (now Innovia Consulting) was named to the 2009 Microsoft Dynamics President's Club at the 2009 Microsoft Worldwide Partner Conference in New Orleans. This honor reflects ABC Computers' success in focusing on customer satisfaction and was shared with an elite group of worldwide Microsoft Dynamics Partners.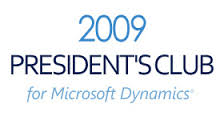 Microsoft strongly values its partners' contributions, and we want to highlight ABC Computers' commitment of delivering exceptional solutions and unsurpassed value to customers," said Doug Kennedy, vice president of the Microsoft Dynamics Partners team. "We're delighted to acknowledge their strong performance, tremendous contributions and outstanding achievements over the past year."
"It is a prestigious club," said Donavan Lane, CEO, ABC Computers, Inc. "We are tremendously pleased with being recognized in a small group of international Microsoft Business Solutions partners for maintaining a constant dedication to customer satisfaction and innovation while achieving a high level of sales and business performance."
About ABC Computers
ABC Computers is a leading midmarket systems integrator specializing in the deployment of Microsoft Dynamics NAV, Microsoft Dynamics GP, network engineering, hardware and business consulting services.
Founded in 1984, the company has built its reputation on managing customer expectations and became an industry-recognized provider of information technology systems. With offices throughout the upper mid-west, the company has grown to manage clients both national and international, leveraging state-of-the-art technologies such as RFID, global connectivity and advanced applications in manufacturing and distribution that improve business efficiencies.
The company attained Microsoft Certified Gold Partner status and has earned the high-level satisfaction rating, Microsoft's Pinnacle Award for Excellence in Customer Service, Accounting Technology's VAR 100 Award and global recognition for long-term relationships with clients.
ABC Computers is a privately held company. For more information, please contact info@abc-computers.com or visit http://www.abc-computers.com.