Is Microsoft Dynamics Finance and Operations or 365 Business Central Right for My Business?
Whether you are considering Microsoft Dynamics for the first time or are an existing customer considering an upgrade, which Microsoft Dynamics solution is right for you is often a complicated question. Typically, there is no one right or wrong answer; however, most companies can find a path that fits them best after weighing the pros and cons of each solution.
Microsoft Dynamics 365 Business Central (BC) and Microsoft Dynamics 365 for Finance and Operations (F&O) are both solid solutions with many users successfully running their companies on each. In this article, Innovia will present its suggestions on what to consider when deciding which of these Microsoft solutions fits your company best.
Microsoft Dynamics 365 for Finance and Operations
Formerly known as Axapta or Microsoft Dynamics AX, this solution has been updated and enhanced to fully integrate with the Microsoft solution suite. Traditionally, F&O has been tuned to larger enterprises with complex financial or supply chain requirements. This focus is still true today, but Microsoft has changed its strategy for the latest releases because it realized that most customers typically only use a portion of the overall solution. In addition, companies of this size are often inclined to implement a best of bread solution, utilizing three or more applications to best fit their overall ERP requirements.
To meet this market reality, Microsoft broke F&O into smaller chunks which may be licensed individually for the portion of the application that best fits a company. This approach benefits companies that only want to utilize parts of the solution.
Strengths of F&O
While there has been some convergence between F&O and BC, F&O has some unique strengths. Microsoft has invested in some industry-specific IP development for F&O, including the Government, Life Sciences, and Hospitality sectors.
In addition, F&O is sold in segmented "apps," meaning that you do not have to purchase the whole system to meet your specific needs. This app approach allows companies to purchase only the functionality they need, which is especially useful if they have other applications they do not wish to replace.
Beyond its basic included apps, F&O also has enhanced integration with other Microsoft solutions, such as Talent or Field Services. For customers seeking a more advanced integration with these tools, Microsoft F&O is a solid choice.
Microsoft Dynamics 365 Business Central (formerly known as NAV or Navision)
Business Central is Microsoft's ERP solution targeted primarily at the small and mid-sized business markets. Microsoft designed BC according to what it heard from its customers. Firms in this space told Microsoft they wanted an end to end system that did not require purchasing in bits and pieces.
BC is a complete solution—quote to cash. It is also the only solution in the Microsoft suite which includes both CRM and Service Management functions directly within the product. Combined with its full financial, supply chain, and manufacturing/jobs functionality, BC is an amazing value for small and mid-sized companies.
The price point for Business Central is $100/user/month for Full Users and $8/user/month for Team Users (think read-only functions but with a few more options as well). This simple pricing structure makes the choice to purchase the system a low-risk decision.
To give a basic overview of all the areas BC covers, screenshots of its functional areas are below.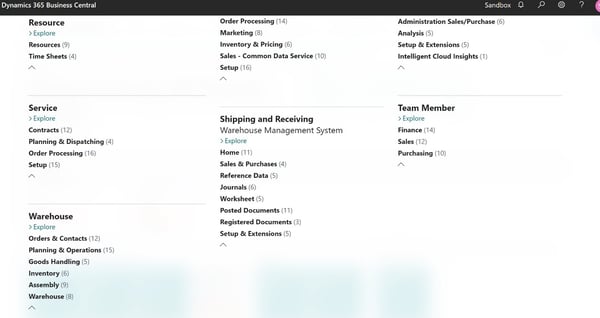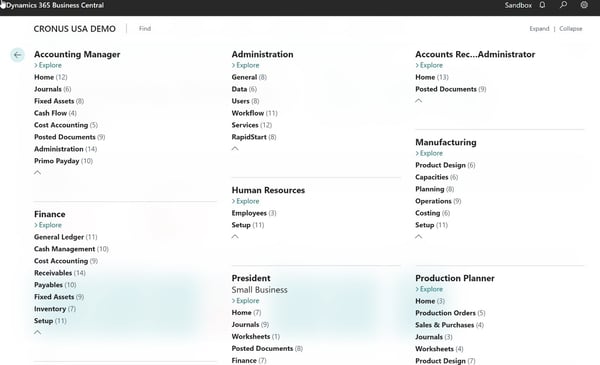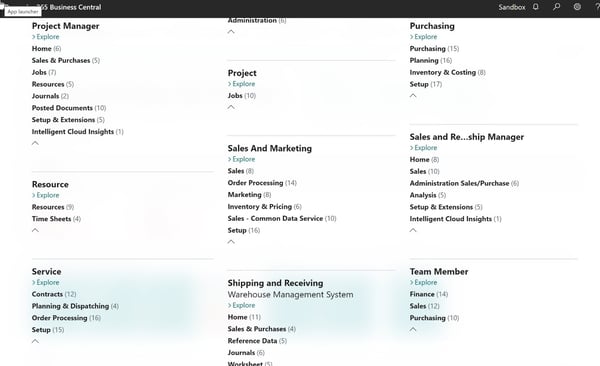 As you can see, this is a complete ERP solution in and of itself, not even considering its robust integrations with Microsoft 365 and the Power Platform.
Innovia has found that Business Central is a great fit for companies seeking a flexible, comprehensive solution to act as the foundation from which to grow their businesses.
What is your verdict?
While there is no one answer for every company, most firms find they can see the best path quickly once they review the strengths of both Microsoft Finance and Operations and Business Central. If you have more specific questions, please contact your Microsoft partner or Innovia Consulting at sales@innovia.com or 800-834-7700.