Deanna Gray Minick leads Team Endeavor, Innovia's newest project team. She brings years of experience managing projects both with internal teams and outside clients to this role. A common thread through all her previous positions has been helping businesses optimize operations and manage change effectively, and that's precisely what she does for Innovia's clients today. She has held positions in a broad range of departments—HR, finance, sales/marketing, and warehouse/distribution—which gives her the ability to understand what stakeholders want and how to bring it about. She is certified as a Scrum Master and uses an Agile methodology to help her team constantly improve and meet customer expectations.
Thomas uses his extensive experience in ERP implementations to help clients optimize their systems. He has been a lead consultant on over 30 BC/NAV implementations and over 50 upgrades. He specializes in the ability to "translate" design requirements between clients, consultants, and developers so that everyone is working toward a common goal. He has over 20 years of experience as a controller and specific expertise in solutions like Walters Kluwer, Avalara, Experlogix CPQ, Cost Control, Insight Works, and Zetadocs.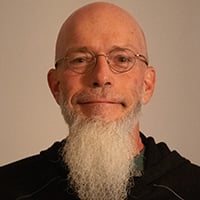 Rick Kalal - Senior Development Consultant
BC / NAV since 1997 | Innovia since 2020
Rick came to Innovia via the Kanza Business Solutions (previously Shepard & Assoc.) acquisition, where he worked for 24 years as a developer for both the Navision and MAS90 solutions. He has worked with numerous programming languages over the years as an employee of Delaware North, The American Quarter Horse Association, and Hubbard Enterprises.
Nick helps businesses move forward by tapping into his Microsoft Dynamics 365 Business Central / NAV expertise. He does this by first learning all he can to understand their businesses and how they operate so he can recommend an ideal solution. He brings to this role a wide range of experience in Business Process Design, Operations Management, Accounting (both public and private experience), and Business Requirements Analysis. He has worked with several ERP solutions (including Microsoft Dynamics 365 Business Central, Dynamics NAV, and Dynamics GP), Agile Systems Design methods, Relational Databases, and Business Intelligence tools. Additionally, he has experience in both C# and T-SQL programming languages and specific expertise implementing ISV solutions from Insight Works and Parity Factory.
Will brings 19 years of experience working with Dynamics 365 Business Central and NAV to his role with Innovia, with numerous senior consultant roles and a record of many successful implementations at companies large and small. Will is a graduate of University of Florida – Warrington College of Business and currently resides in Miami, FL.
Mitzi has worked with BC/NAV since her first implementation as Director of Operations at a food distributor. After getting hooked on the system, she transitioned into the partner world and has been helping customers deploy and learn to use their ERP systems ever since. While she enjoys working with clients in every industry, her background gives her unique expertise in the food and machine manufacturing industries. She also has expertise in helping customers in any sector that requires government or mandated inspections/protocols.