Onalaska, Wisconsin – June 24th, 2021
After launching in 2019, the Innovia Conversation podcast has been a staple for on-the-go Business Central news and training. Today, Innovia Consulting is thrilled to share that its 50th episode has been posted.
The Innovia Conversation is a podcast aimed at users in the Business Central and Dynamics NAV communities and those using related technologies. Hosts Steve Waltz and Jeff Pergolski regularly welcome recognized experts, ISV providers creating new solutions for specific customer scenarios, and Innovia staff members sharing how their work fits into the BC/NAV community.


In this 50th episode, our co-hosts come together to reminisce and share some exciting news for what's coming both at Innovia Consulting and in the Dynamics BC/NAV space, such as the newly announced 2022 Innovia Customer Conference and Community Summit this October in Houston, TX.
Commenting on the podcast's success, Waltz said, "It's always fun to welcome leading experts in our field onto the show. It gives them the chance to share what they're best at, and I always walk away feeling like I've learned something. I think our listeners do, too."
Thinking back on all the episodes they have done together, Pergolski adds, "Some of my favorite ones are when we have [Innovia founder] Donavan on because he's passionate about Dynamics, ERP, Innovia, and delivering great customer experiences." He also shared how these episodes have been a resource for sharing Innovia's story with new team members during their onboarding.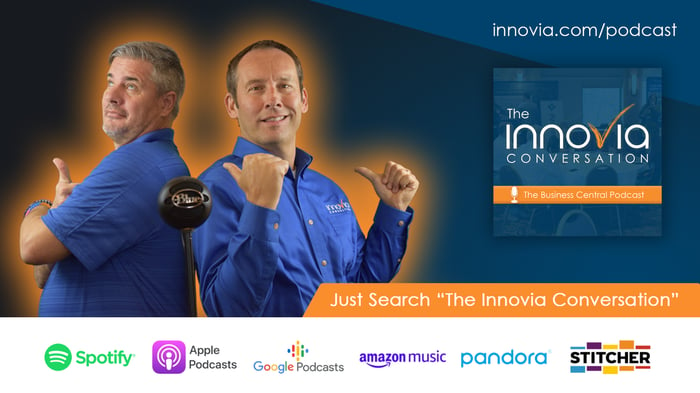 The Innovia Conversation Podcast is available on nearly every podcast platform and streaming service, or you can visit the feed directly.
About Innovia Consulting
Are you ready to lead your organization to a more efficient future? Whether you want to implement ERP for the first time, upgrade/support an existing system, or attend expert-led training workshops, Innovia Consulting can help you harness the full power of Microsoft Dynamics 365 Business Central or NAV—on time and on budget. Headquartered in the Midwest with remote staff all over the country, Innovia Consulting focuses exclusively on Business Central and NAV, offering you unparalleled product expertise. With Innovia on your side, you will have the support you need to lead your organization to ERP success.