Barcodes are such a wonderful invention. Something is satisfying about hearing that "beep" when a barcode is scanned. That simple "beep" has just processed something in a fraction of a second and without any errors. The folks at Insight Works can't get enough of that "beep" and wanted others to experience the benefits of barcodes. In early 2019, Insight Works launched the free Barcode Generator app for Dynamics 365 Business Central. Since then, Barcode Generator has been added to over 2,000 Business Central installs.
What is Barcode Generator, and why would you want it?
Barcode Generator from Insight Works is an app for Business Central that enables businesses to add barcodes to reports. You can modify existing reports such as invoices, order confirmations, and production orders to include barcodes, or you can create new reports with barcodes.
Barcodes save significant time when compared to manual data entry. Can you imagine going grocery shopping and at checkout, the cashier manually enters your items into the POS? In addition to being a huge time-saver, barcodes significantly reduce errors.
How do you use Barcode Generator?
Barcode Generator is considered a developer tool; however, when installed, it includes several sample reports and the source code that administrators can use to modify existing reports or create new reports. Sample reports include:
Labels

Warehouse Documents

Item Label

Bin Label

Location Label

WHMIS Label

Warehouse Movement

Warehouse Receipt

Warehouse Shipment

Pick List

Putaway List

Transfer Order

Inventory Documents

Miscellaneous

Picking List by Order

Sales Shipment

Purchase Receipt

Purchase Order

Transfer Order

Production Order Job Card

Fixed Asset Barcode Label

Production Serial Tracked Output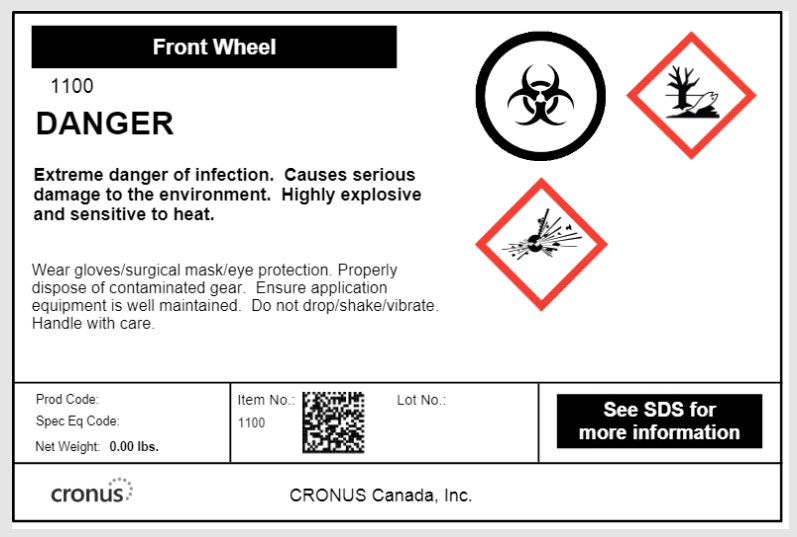 What types of barcodes are supported?
Both 1D Code 39 and 2D Data Matrix codes are supported. 1D Code 39 barcodes are your typical linear barcode, and it supports 43 characters consisting of uppercase letters, numeric digits, and a few special symbols. The amount of data contained within a Code 39 barcode is limited as the more data included, the wider the barcode becomes. Depending on the type of scanner used, a wide barcode may not scan properly.
2D Data Matrix barcodes contain significantly more data than a 1D barcode. 2D Data Matrix barcodes can store upwards of 7,000 characters of data. 2D barcodes can also be scanned from long distances, upwards of 70 feet or more, depending on the type of scanner used.

As a quick note, the ability to scan 1D or 2D barcodes will depend on the capabilities of the scanner being used. Some scanners will only scan 1D, while others will scan 1D and 2D.
How to get started with Barcode Generator?
As mentioned, the Barcode Generator app for Dynamics 365 Business Central is a completely free app courtesy of Insight Works. Barcode Generator is only available for the cloud version of Business Central and can be installed from the extensions marketplace within Business Central or from Microsoft AppSource.
I think we all take barcodes for granted. Next time you experience the oh-so-satisfying "beep", take a moment to remember Joe Woodland, the inventor of the barcode. To learn more, check out the video below or visit www.barcodesfordynamics.com.