KwikTag by enChoice leads digital transformation as the one system for AI-powered invoice capture and workflow automation. With 20+ years of experience in the Dynamics community, KwikTag offers intelligent AP automation D365 Business Central that provides a completely digital, touchless workflow and automatic transaction creation in BC.
SimplyAP is a cloud-based accounts payable automation solution that integrates directly with D365 Business Central. SimplyAP makes it easier than ever for AP staff to manage invoices, their dimension coding, and workflow status. With SimplyAP, you can transform your invoice process from manual to modern and be up and running in less than one day.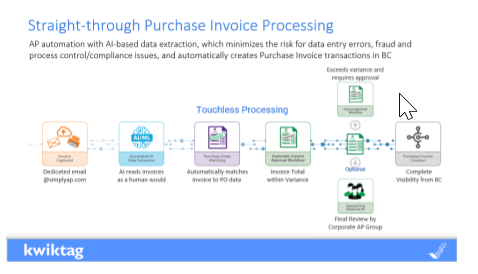 AP automation extends the value of your D365 Business Central investment and provides measurable time and cost savings, such as an 80% reduction in invoice processing costs and accelerating the AP process from 45 days to just a few hours or less.
Ready to get started? You can also reach out to your Innovia Customer Success Manager to learn more, call us at 800-834-7700 or email us at sales@innovia.com.