One of our strengths at Innovia is our internal investments. We tell our customers that we are looking for long-term relationships with fair-minded people. To support long-term relationships, a company needs to plan to be around for a long time. At Innovia, we have a 5-year and 20-year plan. It tracks our planned growth, areas of expansion, and where best to invest in the company. I thought this would be a good time to talk about a few of Innovia's investment strategies.
In 2022 we created Innovia University. If you are in business, you know the difficulties in finding qualified staff or any staff for that matter. This has been a problem in the technology world for many years and in the NAV/Business Central world, it has been an acute problem for a long time. We decided last year that it was time to "grow our own" staff. This year we have created an internal school that is taking people directly out of college, hiring them full-time, and spending the next 4 months training these folks to become Application Consultants. We know that to build good staff we must invest in people from the ground up. Our hope is to grow our internal school to provide training for all levels of application consultants and developers over the years.
Technology changes at a pace that is very hard to keep up with, even for a company specializing in technology. Innovia decided that we needed to dedicate a senior staff member to that role for the purpose of evaluating what Microsoft is doing going forward, working with the ISVs as they improve their offerings, and looking for new areas that can help our customers. To that end, we have promoted Chad Williams into the role of Chief Technology Officer. While many companies would look at this role as just overhead, we see it as necessary for the growth and sustainability of Innovia. Long-term relationships with our customers mean that we are always able to provide them with the best advice for the next technology that will help them grow their business.
Another area of investment is acquisitions. Innovia's acquisition strategy is one of targeted and strategic acquisitions. We look for other partners of similar size that provide us with additional highly qualified staff and a solid customer base. When an acquisition is completed, all the staff of the acquired company join the Innovia family and are integrated into our project teams. Good acquisitions can be a large investment but also can provide growth opportunities to help Innovia better serve all the customers.
Great businesses always invest in themselves with the goal being to provide better service and products to their customers. At Innovia we strive for that same goal. We invest heavily to help grow our staff, our company, and our customers.
Alan Wyne, CEO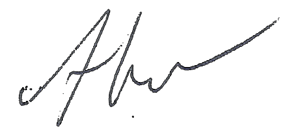 | | |
| --- | --- |
| | Innovia Consulting is excited to announce new CTO, Chad Williams, and COO, Gary Harpenau, effective April 25, 2022. |
| | |
| --- | --- |
| | Make sure your Business Central software is up to date with the most current regular cumulative updates from Microsoft. |
| | |
| --- | --- |
| | Microsoft's upcoming security updates will impact on-premise users trying to connect to the Excel Add-In. Please read and take action by July 1, 2022. |
| | |
| --- | --- |
| | Learn how to track a variety of products from source to destination within your Dynamics 365 Business Central system with Lot Control, and Item Tracking. |
Innovia welcomes Senior Development Consultant Tyler Matthews. Tyler has over seven years of experience in NAV/BC. He holds a bachelor's degree in Computer Science from the University of South Florida. Tyler enjoys everything from building computers and gaming sessions with his wife to reading the latest science fiction novel with a cup of coffee. He currently resides in Winnipeg, Canada with his wife and 3-year-old daughter.
Innovia welcomes Colleen Fons as our new Project Manager. Colleen holds a degree in Finance and has served in multiple functions including Finance, Supply Chain, Customer Service, Manufacturing, Lean/Six Sigma, and Quality. She has a passion for the customer and is looking forward to supporting both our customers and our Team Legends in achieving their goals. She has previous implementation experience on other ERP platforms. Colleen enjoys watching her teenage son play sports, thrifting for vintage finds, traveling, and fostering shelter dogs.
Innovia also welcomes Larry Latourneau as our new Senior Application Consultant. Larry has over 20 years of experience in various industries and has held multiple roles in the ERP space, but has always migrated to customer-facing support and service roles. Larry received his Bachelor's degree from Wilfred Laurier University in Waterloo, Ontario where he lives with his wife Bevlyn and their two children and two Chihuahuas pandemic puppies. In Larry's downtime, you can find him playing video games, building Lego sets, and reading.
Donavan Lane -
Founder &
Chairman

38 years

Annette Buchal -
Sr. Project Manager/Mentor

10 years

Steve Waltz -
Director of New
Client Engagement

5 years
Angie Doorn -
Sales & Marketing
Administrator

5 years

Bryce Menadue -
Development Consultant

4 years

Andrei Bruzgulis -
Senior
Application Consultant

2 years
WIN THIS MONTH'S NEWSLETTER PRIZE!
ANSWER THIS MONTH'S QUESTION
FOR YOUR CHANCE TO WIN
This Month's Question

What is Lot Control called in Business Central?

Lot Stuff

Lot Tracking

Item Control

Item Tracking

Submit your answer to info@innovia.com. A winner will be chosen from the correct responses and will receive this month's prize + a small gift basket.

Last Month's Question

Which is not a challenge of manual payment processing in Business Central?

Correct Answer C: Calculating sales tax across different states

Congratulations to Vanessa T. from Kirby Foods who won our April prize.