As we work with customers, we see one common missed area: Training. Customers come to us to help them with a problem, to modify or provide a new tool. Yet, in the end, they needed additional training; they could solve the issue internally. While providing services to our customers is how we stay in business, we also feel it is vital that customers become self-sufficient to a certain minimum. So here are some tips on how to be more self-sufficient.
Ensure you have at least two super users and an internal user group. It doesn't take much to create an internal user group. Your super users can lead the meetings. Hold a group meeting for 30 minutes to 1 hour each quarter. Discuss a topic and focus on solving an issue or showing a new feature. Your Innovia Customer Engagement Specialist will be happy to help.
Become active in Dynamics User Group (DUG). Go to the local Meet-Ups, and work with other users of NAV/BC. Create posts on the DUG Forums page and help to provide answers. The DUG community is an excellent source of help and new ideas. Make sure at least 1 of your users is attending DynamicsCon Live in San Antonio, Sept 14-16. This is where you can spend three days attending informative sessions on NAV/BC and meet with other users, ISVs, and people from Microsoft.
Finally, utilize the Innovia website and click on the "Resources" menu option. Within this area, you will find a wide selection of upcoming and on-demand webinars and blogs presented by Innovia staff and our ISVs. Innovia also provides BC-specific Training Workshops for a fee. These workshops focus on specific areas of BC and help users gain a better understanding of their system. Companies are charged just one small fee for the workshop and can have as many people from their organization attend as necessary. You can see a list of upcoming and requestable courses by following the "Training Workshops" menu on the Innovia website.
Alan Wyne, CEO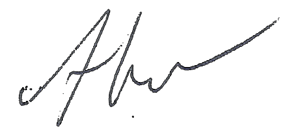 | | |
| --- | --- |
| | Migrating to the cloud can be disruptive for any company. Learn how to smooth out this process for an easier transition that won't disrupt your reporting. |
| | |
| --- | --- |
| | Learn the differences between the ASC 840 and ASC 842 Lease Accounting standards and what you need to know to keep your company compliant. |
| | |
| --- | --- |
| | Data visibility is the key to solving your supply chain issues, optimizing processes, and keeping your customers satisfied and loyal. |
| | |
| --- | --- |
| | Discover the ins and outs of Use Tax and how you can track and account for it automatically in your Dynamics 365 Business Central system. |
Innovia proudly introduces our new Customer Engagement Specialist Trish Boccuti. Trish has a passion for building relationships and communities in the tech world. She has over 15 years of expertise in the Microsoft Dynamics space, driving brand development, client acquisition, revenue generation, and partner success.

Prior to joining Innovia, Trish held many positions at Fastpath, including Chief Marketing Officer and Sr. Vice President of Strategic Alliances. She partnered with clients to strategize and support the roll-out of software solutions that enable enterprise efficiency, compliance, expansion, and clarity. Trish has in-depth knowledge of Microsoft Dynamics communities and positioning technology software solutions to customer segments spanning small businesses, mid-sized companies, and large Fortune 500 corporations.
Join us as we welcome Andy Ricchiuto as our New Power Platform Team Lead. Andy comes to Innovia with a background in software support and education. Most recently, he spent the last year developing and supporting Power Platform solutions and quickly realized the opportunity it creates for small- and mid-size businesses. Andy enjoys delivering creative solutions to streamline processes and simplify customers' lives. He enjoys exploring new restaurants and breweries with his wife, Dana, and beach days with his two kids, Kayla (12) and Vince (8). Andy enjoys playing basketball, making music, and listening to podcasts and audiobooks when he has free time.
Innovia also welcomes Power Platform Consultant on Team Empower, Isaiah Donley. Isaiah comes from an Education Background, teaching Psychology in a high school setting, designing student support programs, and using Power Platform to optimize student performance and program health. His experience with Power Platform has solidified his passion for data and technology and has clarified the potential of Power Platform to increase productivity and efficiency. Isaiah received his B.A. in Psychology from Upper Iowa University and his M.A. in Psychology from Santa Clara University. He enjoys reading, working out, and going to the beach. Isaiah lives in Southern California, outside Los Angeles, with his wife and their dog Bruce.
WIN THIS MONTH'S NEWSLETTER PRIZE!
ANSWER THIS MONTH'S QUESTION
FOR YOUR CHANCE TO WIN
This Month's Question

Which is not a problem with manual financial reporting ?

Limited collaboration and version control

Error prone

A static view of the business

Not enough unique file names

Submit your answer to info@innovia.com. A winner will be chosen from the correct responses and will receive this month's prize + a small gift basket.

Last Month's Question

What does not need to be present on your eCommerce check-out page?

Correct Answer C: Customer Feedback Survey

Congratulations to Laurie S. from PHS West who won our June prize.