Over the last few years, the Microsoft Power Platform has continued to grow in capabilities. Innovia has a team dedicated to creating projects for customers from within this platform. The Power Platform consists of the following tools: Power BI, Power Apps, Power Automate, and Power Virtual Agents. When you look at what these products are capable of, they show themselves to be far superior to similar products on the market.
Imagine you have an operation where the product is stored outdoors in locations geographically separate. You need an easy way to see a map showing where the products are located. Then you want to click on a section of the map to see exactly what products are in that area, which products are sold or promised to a customer, and which are open inventory. You also want to see other attributes of the product such as serial numbers, lot numbers, color, size, etc. Innovia has built such a system for a couple of our customers. Now any member of the company can easily "see" what is in inventory. All from a Power BI screen.
Outdoor Inventory App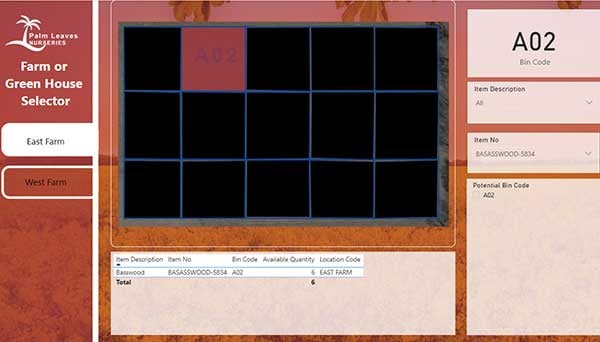 Imagine you are a service industry company. Your employees go out on service calls, and you need a method they can use on their phones or tablets for entry of the call information. You also need to get customer signatures once the work is completed. Innovia has built this exact type of solution for our customers using Power Apps.
Signature Capture App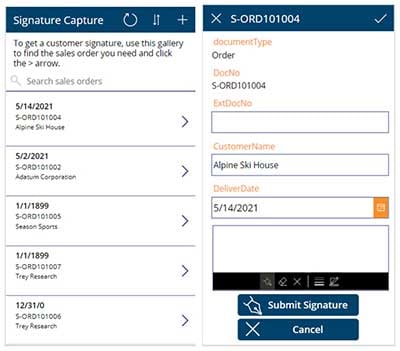 When your company is at a trade show and wants to capture the business card information from attendees, you can have an app that scans the business card and properly reads all the information. That data can then be automatically uploaded to BC or your CRM. Yes, Innovia has done that also with Power Apps.
Business Card Reader App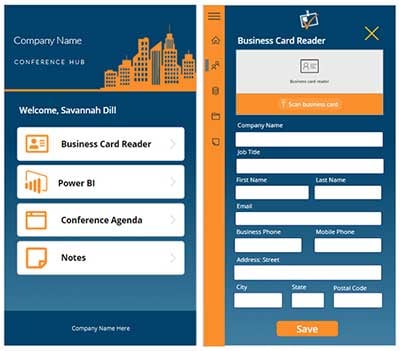 The Power Platform provides strong functionality at a much lower cost than custom-built software. It operates in the cloud and easily integrates directly into Business Central. If you are on a NAV version, the platform can also be integrated into your on-premise systems.
In the coming weeks, your Innovia Customer Engagement Specialist will be talking with you about how Power Platform can help your business. This is the future of the digital world. We are ready to help you experience it.
Best Regards,
Alan Wyne, CEO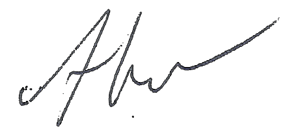 | | |
| --- | --- |
| | Learn about Microsoft's new CSP subscription purchasing platform called the New Commerce Experience (NCE) and what it means for you. |
| | |
| --- | --- |
| | Twice a year Microsoft gives us the opportunity to unbox a gift. Here are some of my favorite new features that came in the Microsoft 2021 Wave 2 Update. |
| | |
| --- | --- |
| | Sparklines are cells in your table or matrix that help you quickly visualize and analyze your data, and now this feature has come to the Power BI Desktop. |
| | |
| --- | --- |
| | The Business Intelligence Solution Cycle will help you set your objectives, gather and organize data, analyze your information, and measure KPIs. |
Innovia welcomes Senior Application Consultant Constantino Lopez Vargas to Innovia. Constantino has been working with Business Central and NAV since 2007. He enjoys helping customers increase their productivity, and making work easier with software solutions. Aside from work, Constantino enjoys spending time with his wife, daughter, and their family cat in Colombia. He also likes to keep active with sports, basketball, cycling, and walking. Constantino enjoys reading books, watching movies, and traveling in his downtime. Welcome, Constantino. We are excited to have you on our team.
We are pleased to announce that George Popyak has joined Innovia Consulting as a Project Manager. George concentrated in Logistics and Operations Management at The Ohio State University and has over 30 years of experience in the Food Service Distribution and Supply Chain industries in various operations and customer-facing leadership roles. George's real-world experience provides a perspective that allows him to relate with our customers and understand the challenges that they are encountering. His expertise includes Operations Management, Process Improvement, Customer Experience, and Account Management. George resides in Powell, Ohio, with his wife Cheryl and rescue dog, Sadie. He enjoys spending time with family, working out, riding his Harley, hiking, bicycling, cheering on Pittsburgh sports teams, and attending live music events in his free time.
Welcome, Brett Ferlin. Brett is a long-time system and software engineer that joins Innovia as a Senior Development Consultant for our support team. With a talent for building and understanding systems and processes, he spent the first half of his career leading and building technology departments for mid-sized American food manufacturers throughout the northeast. After selecting and installing NAV for the first time, Brett spent the next 13 years working with NAV environments and customers both as end-users and partners. With a vast and varied cross-functional IT and Business experience, he is often sought for his ability to adapt, adjust, and reverse engineer complex issues making him the last line of defense in support situations. He holds a degree in Electrical Engineering and is a known tinker and maker. When not working, he is an avid musician and artist, enjoys working with his hands, and lives with his wife near Chicago, Illinois.
Nathan Peters -
Senior Development Consultant

15 years

Keith Sayer -
Power Platform
Team Lead


2 years

Jim Weaver -
Director of
New Client Engagement

1 year
Laurie Kuehl -
Project
Manager

1 year

Mitzi Ridley -
Senior Application Consultant

1 year

Alan Crow -
Senior Application Consultant

1 year
WIN THIS MONTH'S NEWSLETTER PRIZE!
ANSWER THIS MONTH'S QUESTION
FOR YOUR CHANCE TO WIN
This Month's Question

Which is not an improvement that was made to Bank Reconciliation in the 2021 Wave 2 Update?

New, easy-to-read test report layout

Double-check function

Many-to-1 matching

Auto-matching posted transfer differences in the general journal

A winner will be chosen from the correct responses and will receive this month's prize + a small gift basket.

Last Month's Answer

Which of the following would not be considered an example of an unusual demand outliner?

Natural Disaster

Box Marked Fragile

Sales Promotion

Large One Time Order

Answer: B
Congratulations to Vikki B. from Caplugs who won our December prize.