There is not a day that goes by that all of us do not use Cloud-based computing. From shopping to playing games to streaming videos to banking, Cloud services do it all! The trust in Cloud-based applications and services has steadily grown over the last 20 years. Microsoft has been at the forefront of this transition from on-premises to Cloud-based solutions and continues to transition its products to the Cloud today.
Over the next few months, Microsoft will contact all Dynamics NAV and GP customers and offer them a free Cloud Readiness assessment, which comes in two forms. The first type is a self-assessment that can be done online in about 20 minutes. The second type is a more detailed assessment, which you complete over the phone with a Microsoft assessment expert. The goal of either assessment is to provide you with a report detailing the costs and benefits of moving to the Cloud for your business. This information equips you to begin the planning process for an eventual move.
You'll also discover ways to overcome common hurdles like:
Ensuring access to all stakeholders and users

Maintaining the functionality and customization you need while making the transition

Precisely estimating the ongoing costs and savings expected
Moving to the Cloud can be as simple as hosted Exchange and Microsoft 365 or as extensive as moving your entire network and applications into Azure servers, eliminating the need for on-premises servers. The Innovia Customer Engagement team will work with our customers to review the assessment results and discuss their next steps. Innovia feels that moving to Cloud-based networks and ERP systems is the right move for all businesses, and we look forward to continuing to help our customers navigate these changes.
If you have any questions or concerns, please contact us. We will set up a call with you and your team to address any issues and walk you through the process.
Best Regards,
Alan Wyne, CEO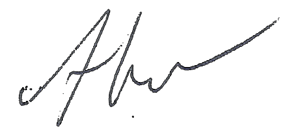 | | |
| --- | --- |
| | Ready to upgrade your phone system and bring it into the digital age? Why not connect it with the great software you already use? Get Microsoft 365 Business Voice, now 25% off for one year! |
| | |
| --- | --- |
| | If you've been thinking about the Cloud but aren't sure what to make of it for your business, this offer is for you! Microsoft and Innovia are teaming up to offer a FREE migration assessment for on-premises customers. |
| | |
| --- | --- |
| | Every consultant and developer at Innovia Consulting loves Business Central / NAV, but they all love it for their own reasons! Find out what each member of Team Rescue Squad (your Innovia Support Team) values most about this great product. |
| | |
| --- | --- |
| | We are happy to announce that Innovia has once again been named to Bob Scott's VAR Stars list. Read more about what this distinction means and why are so thrilled to be selected! |
We are happy to announce that Will Mercado has joined Innovia Consulting as a Senior Application Consultant on Team Endeavor. He brings 19 years of experience working with Dynamics 365 BC/ NAV to this role, with numerous senior roles and a record of many successful implementations at companies large and small. Will is a graduate of the University of Florida – Warrington College of Business and currently resides in Miami, FL, with his partner Carolina and their 9-month-old son Dominic. In his free time, he enjoys doing things with the family, such as taking Dominic to as many different parks as they can find, going on hikes, and going to the beach. Will is looking forward to getting the family bicycles so they can start cycling together. As Dominic becomes just a tad bit more independent, he hopes to start working out and maybe even playing some flag football leagues again.
We are happy to announce Ronald McKinney has joined Innovia Consulting as one of our Customer Engagement Representatives. Ronald worked for over 20 years in manufacturing with Premier Foods Corporation, AE Piston, and Federal Mogul. His real-world experience lends him a unique perspective that allows him to relate with our customers. He is a graduate of Indiana University & Purdue University, so he fights with himself when they play. He lives in North Liberty, IN, and enjoys spending time with his wife Sheila and their six grandchildren.
We are pleased to announce that Jim Weaver has joined Innovia Consulting as our newest Customer Engagement Specialist. With his more than 40 years of foodservice experience, he will be helping food manufacturers and distributors get the most out of their Dynamics 365 Business Central and NAV systems. He comes to Innovia after having been a Sales Representative and National Account Executive working directly in this industry. He brings a unique understanding of the challenges these customers face, and we can't wait for our clients and prospects to get to know him. Jim lives in Chattanooga, TN, where he enjoys boating, hiking, traveling, and cheering on his native hometown Pittsburgh Steelers.
We are happy to announce Laurie Kuehl has joined Innovia as Project Manager for the newly founded Team Velocity. Laurie has over 25 years of experience in Customer Service, Training, and Program Management. Over the past 4+ years, Laurie managed and facilitated educational curriculum virtually and at onsite events for Microsoft Dynamics 365 BC and NAV users. Before this role, she worked in the nonprofit, publishing, and software industries. She even spent time directly with Microsoft. Going above and beyond for her customers has been a consistent theme throughout her career, and we couldn't be more excited for her to bring that spirit to Innovia! Laurie and her husband, Brian, reside in Moorhead, MN, where they continue their ancestors' traditions by farming their 4th generation family farms. She loves sports and music, and she enjoys spending the summer months at her family lake home.
Nathan Peters-
Senior Development Consultant

14 years

Keith Sayer -
Marketing Specialist

1 year
WIN THIS MONTH'S NEWSLETTER PRIZE!
ANSWER THIS MONTH'S QUESTION
FOR YOUR CHANCE TO WIN
This Month's Question

What's the last day you can get 25% off of your first year of Microsoft 365 Business Voice?

February 28th, 2021

March 15th, 2021

April 30th, 2021

May 31st, 2021

A winner will be chosen from the correct responses and will receive this month's prize + a small gift basket.

Last Month's Answer

Which of the following is NOT a common trait of analytics that lack insight according to a recent FSN survey?

Routine

Siloed

Biased
Reactive

Answer: C
Congratulations to Pam Conley from Lasallian Educational Research Initiatives who won the Fast Wireless Charger.