Kofax is a market leader in Intelligent Automation (IA). It seems you can't go very far today without hearing about the promise of how Intelligent Automation can improve your business performance. Intelligent Automation components have been utilized by Microsoft to improve the performance of your Financial system within NAV/ Dynamics 365 Business Central.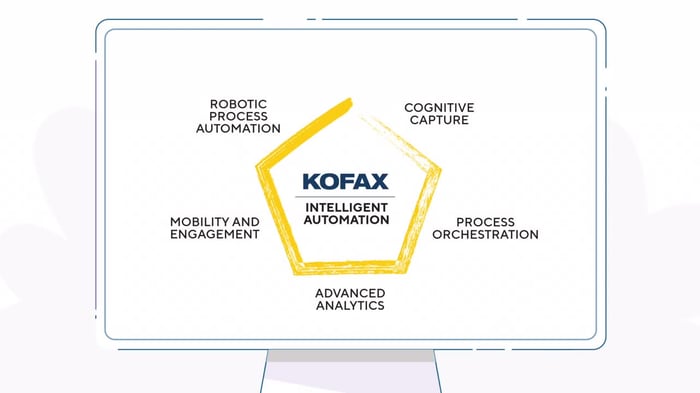 5 Capabilities of the Kofax Intelligent Automation Platform
Robotic Process Automation
Automate repetitive tasks with a digital workforce.
Cognitive Capture
Ingest & understand any document and its information, via any ingestion channel and in any formats.
Process Orchestration
Drive successful outcomes by orchestrating multiple actions, people, policies & systems.
Mobility & Engagement
Communicate and transact in efficient, effective and trusted ways.
Advanced Analytics
Provide actionable analytics for any business process with increased visibility and deeper insights
ReadSoft Online
Kofax ReadSoft Online™ provides market leading invoice automation in the cloud. When you leverage ReadSoft Online to process PO and non-PO invoice data, you transform accounts payable into a transparent, controlled and strategic business unit. This true multi-tenant SaaS solution is monitored around the clock by a dedicated cloud operations team to ensure optimal performance and effortless handling of large changes in document volumes.
Ready to learn more about these solutions for your Business Central / Microsoft Dynamics NAV system? Contact your Innovia Customer Engagement Specialist today. Don't have one? Then contact us at 800-834-7700 or email us at sales@innovia.com to start the conversation.