It's time to sign up for the Innovia Customer Conference. This year we are back in person. The conference will be held May 4-5 on the campus of the University of Notre Dame. We have an exciting conference lined up for everyone. We have been pleasantly surprised at the early sign-up numbers and expect this conference to be the largest in Innovia history. The conference is free to attend so submit your registration today! We are also giving away two tickets to see the Garth Brooks concert at Notre Dame Stadium on May 7th. All conference registrants are automatically entered into the drawing.
As always, we have an exciting agenda for the conference. We have 2 strong Keynote addresses. First up, Molly Fuchsel and Liz Hallen will introduce you to Dynamics User Group (DUG), a FREE Microsoft Dynamics and Power Platform community to help you get more from your system. Later, Brad Adams from Sales Gravy will talk about how sales efforts can be improved and how data drives those efforts. We also have 30 focused training sessions scheduled from Innovia staff and our valued ISVs. The agenda is posted on our conference page and can be accessed here.
Over half of our Innovia Consulting team members will be in attendance. It's a great opportunity for you to meet face-to-face with many of the folks you have worked with over the years. In addition, 20 of our valued ISV partners will be in attendance for you to network with and learn more about their solutions.
The Innovia Customer Conference has always been a highlight of the year for our customers. There is always excellent information, networking opportunities, and fun to be had. Each year the conference continues to grow in size and offerings. It is a great time to learn from people using NAV/BC and share your knowledge with others in the community. We look forward to seeing you in person again and hope you will join us in South Bend for this great event.
See you in May!
Best Regards,
Alan Wyne, CEO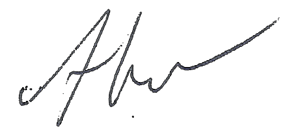 | | |
| --- | --- |
| | Innovia Consulting proudly announces its partnership with Dynamics User Group with the goal of creating a user group the way it was meant to be. |
| | |
| --- | --- |
| | Find out which payment trends will have the greatest impact on the B2B payments landscape in 2022 with Versapay. |
| | |
| --- | --- |
| | Join Innovia at DynamicsCon Virtual 2022! Check out what sessions Innovia will be presenting on, view the complete agenda, and register for the event. |
| | |
| --- | --- |
| | Manufacturers are making decisions to cope with supply chain issues, labor shortages, and customer demands. Learn how these decisions are affecting their tax obligations. |
Innovia welcomes Application Consultant Patrick Manley. Patrick has four years of experience in implementing and supporting NAV/BC, seven years total in ERP implementations as well as over twenty years in manufacturing. He has worked with a variety of ERP and MRP systems with his focus being on plant & chemical manufacturing specifically in laboratories, greenhouses, and manufacturing facilities. He likes to spend his time out of the office with his two daughters Cleo and Willa, enjoying art projects, riding bicycles, playing sports, woodworking, and playing video games. He also enjoys spending time with his wife Bri, their three cats, and river turtle. Welcome, Patrick, we are excited to have you on our team!
Innovia also welcomes Application Consultant Marcella Affonso.

Marcella comes from an Accounting Background; she has a Bachelor's Business Degree in Accounting and Business Central experience. She speaks three languages and loves to learn new things every day. As a consultant, Marcella is always willing to improve her skills, meet new people and help the company achieve its goals. With majoring in ERP and Business Analysis, Marcella is passionate about numbers and system implementation. When she isn't working, she likes to go to the beach, play tennis, work out, and stand up paddling. Marcella loves to travel and experience different places and cultures.
WIN THIS MONTH'S NEWSLETTER PRIZE!
ANSWER THIS MONTH'S QUESTION
FOR YOUR CHANCE TO WIN
This Month's Question

What is the name of the session Keith Sayer from Innovia Consulting will be presenting at DynamicsCon Tuesday, March 15th, at 11 am?

Reporting Made Easy.

Reporting, What is it Good For?

Forget Everything You Knew About Reporting.

What is Reporting, Really?

A winner will be chosen from the correct responses and will receive this month's prize + a small gift basket.

Last Month's Answer

Which is not an improvement that was made to Bank Reconciliation in the 2021 Wave 2 Update?

New, easy-to-read test report layout

Double-check function

Many-to-1 matching

Auto-matching posted transfer differences in the general journal

Answer: B
Congratulations to Elaine S. from Culver Franchising Systems, LLC who won our January prize.