Don't look now but another one of Microsoft's Office products is working even better with Dynamics NAV/D365!
That's right, Outlook now has some awesome new features that allow your team to be even more productive. Let's face it, many people spend a large portion of their day inside of Outlook. But what if, instead of having to read an email from a prospect or customer and then go into Dynamics NAV/D365 and update a record; they could just handle it all right from Outlook?
Crazy talk!

It gets better, Outlook also handles the tracking of tasks, logs the emails for historical look up, and serves up Chai Lattes (OK, it does not serve up Chai Lattes).
For those of us that have been around Dynamics NAV for a while, I realize your skepticism is ringing loudly in your ears. Just take a look, play around with it for a few minutes. I believe you will be pleasantly surprised with the features and functionality. But look, the haters are going to hate…but in reality, most of the work that we need to handle while interacting with our prospects or customers can really be performed in Outlook. Will you need to go to NAV from time to time? Sure, but if we focus on the awesome job that Marco Perisic, Jannik Bausager and the rest of the Dynamics NAV/D365 team has delivered…my response is Dilly Dilly!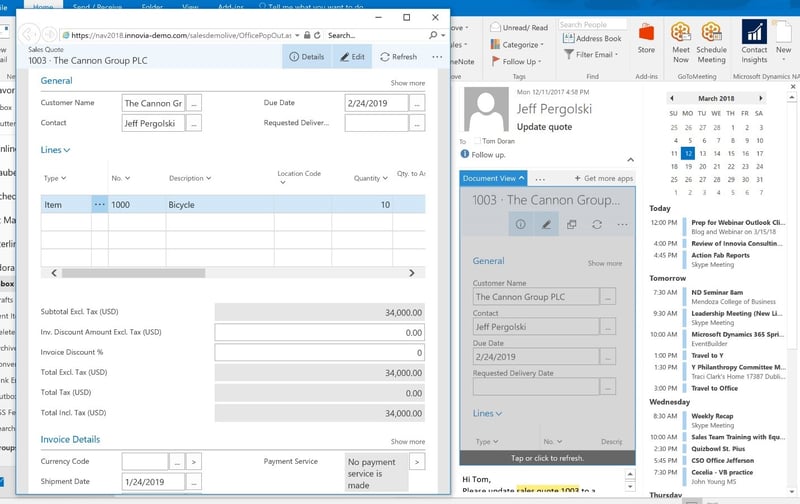 It is also easy to set up! Hard to believe, but it is true; particularly if you are using O365. The assisted setup wizards walk even the most novice users through the process.
I am thrilled with the functionality. I am thrilled with the continued investment in the solution. I am thrilled for my clients that have been sweating over whether or not they should purchase a CRM solution.
I have advised for years that Dynamics NAV provided a pretty nice set of features which most customers could use to begin their CRM journey. Now with the increased functionality provided by the Outlook client for NAV/D365, one of the most common competitive complaints has been removed and Dynamics users are empowered to improve their sales and customer service simply by opening their Outlook.
Dilly Dilly indeed!
To learn more about integrating Outlook with NAV 2018, watch our webinar on demand.