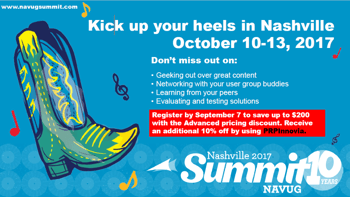 As summer comes to a close and I look at my fall schedule, I have a conundrum. See, I had a great summer. I went to Boy Scout camp with my son, my family and I moved into our new home, and had an awesome first concert with my kids watching Jimmy Buffet.
Now, as I get ready for the push to close the year strong, I am doing some planning for the coming four months. Imagine my surprise when I realize that I am actually out of the office more in the next four months than I have been in the past three months. So now, I am trying to decide what can possibly get removed from the hectic travel schedule. The answer begins to appear clearly, while I could make some justification for canceling one or two of these trips, I need to make them. As an example, consider NAVUG Summit, in Nashville, October 10-13. With travel, this trip will essentially take me away from the office for a full week; not to mention have me arriving home late on a Friday night. However, when I consider the value of attending NAVUG Summit, clearly, I cannot miss this important event.
NAVUG Summit is the annual gathering for all Microsoft Dynamics NAV users and supporters. This event is full of great sessions to help develop leadership skills, improve NAV skills, and learn how to get more from the investment our companies have made in the tool we use to run our businesses. Even more important than the sessions are the conversations they start. For those who have attended NAVUG Summit in the past, the last comment is well known; but what about those people who are still considering whether or not they can "afford to be out of the office"?
I have to stress that the conversations and connections that people make at NAVUG Summit are the most valuable part of the conference. This is where the topics covered in the sessions are more fully explored, notes are compared, and stories are shared about how companies have put the lessons learned into use to help improve performance at their firm. In addition, conversations lay the ground work for a connection, a relationship, and maybe even new friends. These are the people who we will call long after the event to check our head, ask for advice, and see if there might be a way that they know of to help us solve some problems we are facing. These new relationships may be founded upon our mutual use of Microsoft Dynamics NAV, but they extend far beyond. Whether we are trying to figure out a better way to manage inventory or how to better manage our healthcare benefits, the people we meet at NAVUG Summit invariably have experience and suggestions that will benefit us and our company.
So, back to my schedule (and yours…), when I consider whether I can afford to be out of the office for a week to attend NAVUG Summit…the real question is, "How Can I Afford NOT to Attend NAVUG Summit?"
As the saying goes…"See you in Nashvegas!".